3 Out of 10 Koreans Suffer Chronic Diseases
by
YuGee
/ Oct 27, 2016 06:48 AM EDT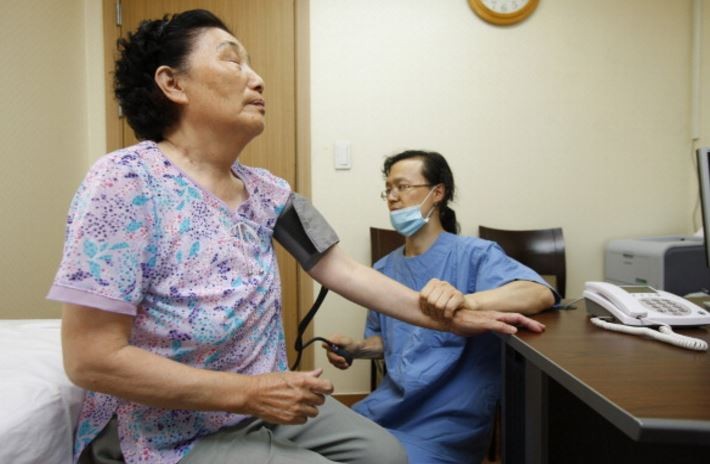 Recent statistics show that 3 out of 10 Koreans suffer chronic diseases which include high blood pressure and that they spent an estimate of 21.3 trillion won (US $18.8 billion) in 2015, a report by the Korea Times stated.
According to the 2015 Health Insurance Statistics published by the National Health Insurance Service and the Health Insurance Review and Assessment Service on Tuesday, there are about 14.39 million people, or 28.5 percent of the population, who received treatment for 11 chronic diseases in 2015.
Of all the chronic ailments, high blood pressure was the biggest factor with 5.7 million patients, followed by nervous system diseases with 2.74 million. They are followed by mental and behavioral disorders (2.62 million), diabetes (2.52 million), and liver diseases (1.49 million).
In the case of mental disorders, the medical expenses grew at 11.7 percent per year and are considered the second highest after nervous system diseases.
Regarding this, Dr. Kim Byung Soo from Seoul Asa Hospital said, "This is due largely to the increase in victims of depression resulting from a stressful external environment, including undue workload, fierce competition, and economic pressure, as well as the growth of dementia patients amid rapid population aging. The eased prejudice against mental illnesses has also helped push up their treatment rate."
The medical expenses of people aged 65 above reach the 20 trillion won mark for the first time with 22.23 trillion won. The expenses increased 11.4 percent from two years ago, and more than double the 10.73 trillion won posted in 2007.
A professor from Seoul National University, Kim Jin-Hyon said, "Although people's use of medical services has continued to increase, their growth pace has slowed from a double-digit to a single-digit rate. This seemed to reflect the increasingly difficult economic situation, forcing people to stay away from hospitals."
The average monthly medical insurance premium paid by workplace subscribers was 100,501 won and increase 3.6 percent from 2014. For locally insured subscribers, they used to pay 80,876 won in 2014 and increased 2.9 percent this year.
© 2020 Korea Portal, All rights reserved. Do not reproduce without permission.