2PM's Taecyeon Confesses Admiration for Park Shin Hye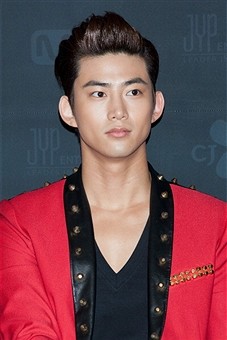 During his guesting at the SBS Power FM "Choi Hwa Jung's Power Time" last Sept. 9, Taecyeon publicly expressed his love for actress Park Shin Hye.
A listener said "You were shy when you saw Park Shin Hye on 'Three Meals a Day,' but afterwards I saw that you had sent Park Shin Hye a coffee truck. When did you guys get close?"
Host Choi Hwa Jung directly asked 27 year old singer-actor if he liked the "Doctors" actress. Choi teased Taecyeon for being seemingly "really shy on the show."
Taecyeon responded "Who wouldn't? She's so beautiful, everyone likes her."
To make Taecyeon talk more about his feelings for the 26 year old actress, the host pushed him by inquiring if he would compete with a list of actors who are on the race to win Ms. Park's heart. The guest star explained telling "I was hoping to when I sent the coffee truck, but it seems a lot of people sent her things. We're only two years apart too."
Taecyeon's desire to reconnect with the actress was mentioned in his video message through the show. He said, "I saw 'Doctors' as well, Shin Hye, I hope my coffee truck helped a lot. Let's meet up. You're truly beautiful."
The 2PM member revealed that their program "Three Meals A Day" sparked closeness between the two stars, Koreaboo reported.
In July, Taecyeon sent Ms. Park a truck containing treats during her shoot for "Doctors." Some say that the said gift was given due to their friendship that started in their cooking show. However, some fans started teasing the singer about his admiration for the actress, Koreaboo recalled.
Ms. Park posted the photos of the gift on her SNS to show her gratitude and appreciation.
2PM has been busy for their comeback album, "Gentlemen's Game."
© 2023 Korea Portal, All rights reserved. Do not reproduce without permission.