'W-Two Worlds' Maintains Top Spot in Ratings For Episode 10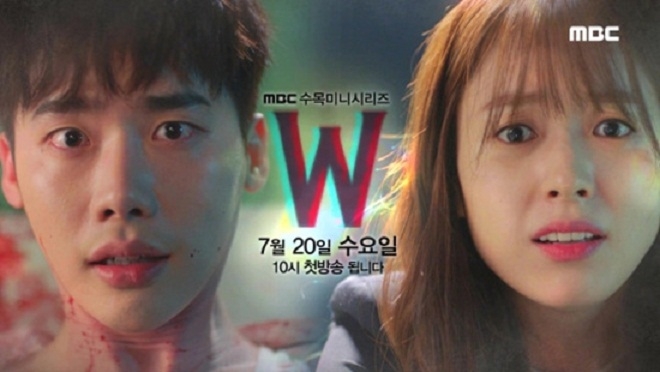 Korean Drama entitled "W-Two Worlds" is one of the most popular ongoing drama series today and maintains its top spot at the viewership ratings for the release of episode 10.
MBC is gaining compliments from the viewers of "W" which is aired around second half of the year.
"W-Two Worlds" is a romance, fiction and suspense type of drama. It is directed by Jung Dae-Yoon. The drama is starring by Lee Jong Suk (Kang Chul) and Han Hyo Joo (Oh Yeon Joo).
The plot of the drama rotates around the real word and the webtoon world. Oh Yeon Joo is a surgeon whose father is a famous comic book creator. One day, her father goes missing and she rushes to his workshop to look for him, and instead finds a strange man, Kang Chul bathed in blood. She is kidnapped by him and taken to a different dimension.
Since the premiere of "W" in July, it has continued to get the top spot at the viewership ratings. According to Nielsen Korea, their latest episode got a nationwide rating of 12.3 % which is aired on August 24th.
The Episode 10 got the highest rated broadcast that increased by 1% from the Episode 9 which got 11.3% rating.
Meanwhile, the KBS drama entitled "Uncontrollably Fond" got the second spot with a record of 8% nationwide rating according to Nielsen Korea. Uncontrollably Fond is starring by Kim Woo Bin and miss A's Bae Suzy. SBS drama entitled "Jealously Incarnate" came last with 7.3% nationwide rating.
Furthermore, 'W-Two Worlds" will be finished on September 14th. It has a total of 16 Episodes and currently it reached 11 Episodes. Because of the drama's unique story plot, it gained lots of viewers not only in Korea but as well as in different countries around the world.
Click here to watch the Korean Drama "W-Two Worlds"
© 2023 Korea Portal, All rights reserved. Do not reproduce without permission.