Rio Olympics 2016: North Korean Gymnast 'Ri Se-Gwang' Sad To Win Gold?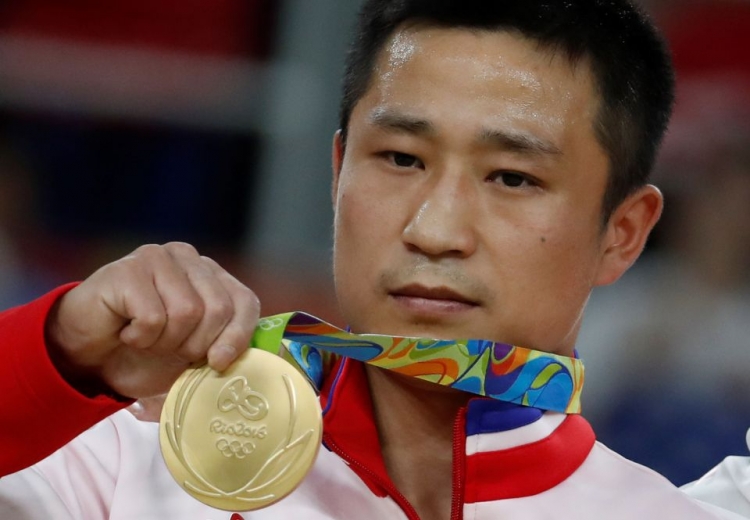 North Korean Gymnast Ri Se-Gwang looks so sad after winning a gold medal in men's vault at Rio de Janeiro.
Winning a gold medal is one of the happiest moments in the lives of many athletes. However, a rare moment happened when the North Korean Gymnast Ri won the gold medal at Rio Olympics showing only his blank and frown face without even showing his gratitude and smile in the camera.
Ri defeated Denis Albyazin of Russia and Kenzo Shirai of Japan. Russia got the silver medal while Japan got the bronze medal. Furthermore, Ri's frown and serious face stark a contrast in the smiles of the gymnasts from Russia and Japan for celebrating their victory.
The North Korean gymnast had a long and decorated career in vault. He gained three world championship medals; bronze in 2007 and golds in 2014 and 2015. Ri was unable to compete for two years, including during the 2012 London Olympics, Because of North Korea's suspension by the International Gymnastics Federation for suspected age falsification by a female gymnast at the 2008 Olympics.
In the 2012 Asian Championships, Ri go back to the international competition where he won bronze with the North Korean men and individual golds on vault and rings. His individual medal at the 2015 World Championships proves him as an individual Olympic berth at the Rio Olympic Games.
North Korea's Ri Se-Gwang said that he's "filled with joy" in winning a gold medal for gymnastics, but he really doesn't show it.
He has been called as "The saddest gold medalist" and created speculations why he looked so sad despite of becoming the third North Korean gymnast in history that won an Olympic gold.
There are some opinions from viewers saying that Ri might be in amid misery due to the thought of having to return to North Korea and fall again under the dictatorship of Kim Jong-un. Lastly, Ri performed a military salute after being awarded his gold medal.
© 2023 Korea Portal, All rights reserved. Do not reproduce without permission.