Park Sang Young Clinched the Gold Medal in Epee Fencing
by
YuGee
/ Aug 10, 2016 07:01 AM EDT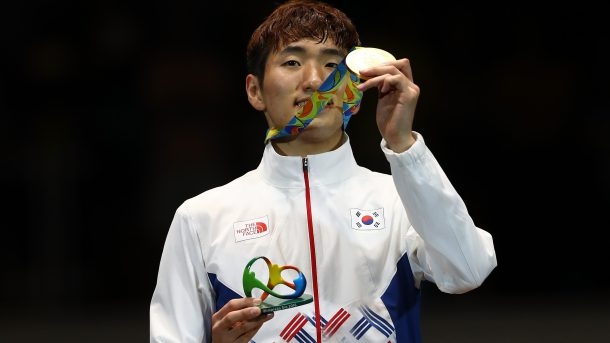 South Korea added another gold medal to its campaign in the Rio Olympics from fencer Park Sang Young when he placed first in the men's individual epee on Tuesday.
Yonhap News reported that Park won over Hungary's Geza Imre 15-14 in the exciting final match at Carioca Arena 3. Park gave the first medal for fencing for South Korea in Rio Olympics.
Park was initially down 14-10 under the three minutes mark when he finally reeled off five uncontested points to make a comeback and seal his victory.
In an interview, Park said, "I was not even thinking about trying to win a gold medal. Since this is the festival for everyone, I wanted to enjoy myself. When will I ever compete at an Olympics again? I did not want to have any regrets, and I think it showed."
Ranked 21st, Park has always won versus the third-ranked Imre in three meetings.
Park is only the second South Korean man to win an individual Olympic gold in fencing. The first one was Kim Young Ho during the 2000 Sydney Games.
In the early stages of the match between Park and Imre, the two fencers traded points, even tying midway through the second period with a 9-9 score. Then, Imre, the world champion at age 41, made four consecutive points and gained the upper hand.
Park then got one more point, but Imre was able to give another point, making it a 14-10 game.
On the brink of losing the match and the much-coveted gold medal, Park reached deep and decided to give his all, getting as many points as he could. As the allotted time made it harder for Park to bag a win, he did the unthinkable and scored his 15th point to finally claim the gold medal.
Park is a 20-year old former junior world champion in Moscow in 2012. He also won the 2014 Asian Fencing Championships held in Suwon, South Korea, and the 2014 Asian Games in Incheon, South Korea. He also clinched a silver medal at the 2014 World Fencing Championships in Kazan, Russia.
© 2023 Korea Portal, All rights reserved. Do not reproduce without permission.