North Korea Fires 2 Short-Range Ballistic Missiles Into The Sea In Defiance Of New U.N. Resolutions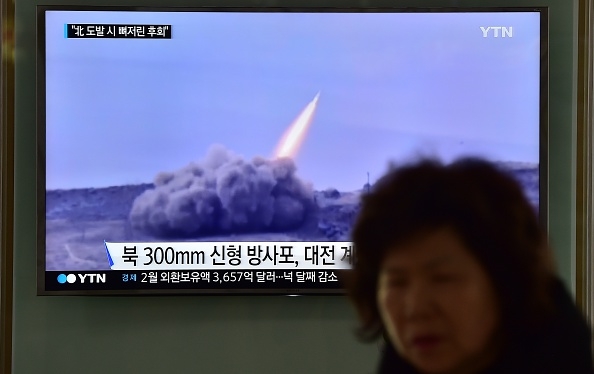 North Korean government officials vowed to "liquidate" all assets and commercial projects with the South on Thursday, firing two short-range missiles into a nearby body of water linking the two countries, presumably to drive the point home.
The actions are in retaliation for a new round of resolutions drafted by the UN Security Council last week, including new sanctions from China and South Korea.
Pentagon spokesman, Commander Bill Urban told the news agency Reuters that the US is "monitoring the situation closely."
The situation in Korean Peninsula went from bad to worse on Monday when which feature 17,000 US soldiers and 300,000 South Korean troops arrived for a ramped-up version of a joint training operation, according to a report by National Public Radio. Though the two nations' military exercises are an annual event, this year the amount of troops was escalated to record numbers.
Pyongyang threatened "pre-emptive military strikes" on the South in retaliation for joint military exercises with the US that took place at the border earlier that day.
"As the joint military exercises to be staged by the enemies are regarded as the most undisguised nuclear war drills aimed to infringe upon the sovereignty of [North Korea], its military counteraction will be more preemptive and offensive nuclear strike to cope with them," read the statement from the National Defense Commission of North Korea.
On Wednesday, U.S. State Department spokesman John Kirby called out Supreme Leader Kim Jong Un specifically for his "provocative rhetoric."
"I'd say the young man needs to pay more attention to the North Korean people and taking care of them, than in pursuing these sorts of reckless capabilities," Kirby said.
© 2023 Korea Portal, All rights reserved. Do not reproduce without permission.