South Korean And U.S. Militaries Devise New War Plan Called 'Operations Plan 5015' To Fight Pyongyang's Reported Guerilla Warfare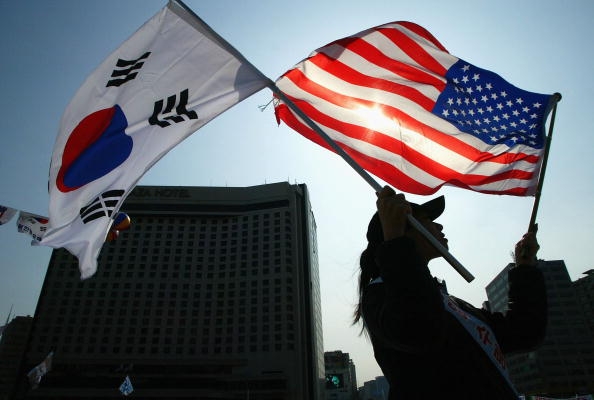 South Korea and United States have reportedly signed a new war plan to replace OPLAN 5027 in June, Korea Herald reported on Aug. 27.
The new war plan called "Operations Plan (OPLAN) 5015" reveals the vision that the capacities and weapons of North Korean military have weaken after years of being under a weak economy, Asia Times noted Oct. 6.
US Pacific Command stated that the operations plans of South Korea and US will continue to develop to better control security challenges in South Korea.
"The US Pacific Command regularly reviews and updates operations plans to ensure our joint forces are ready to respond to regional threats and crises," PACOM said.
"The joint ROK (Republic of Korea)-US operations plan has and will continue to evolve to enhance readiness and strengthen the ROK-US. Alliance's ability to defend the Republic of Korea and maintain stability on the Korean Peninsula."
Sources knowledgeable of the matter reveal that "5015 plan deals with surprise military provocations by Pyongyang through the use of its special forces." Aside from that, the new war plan will highlight the use of special forces whose primary duties include assassinating and kidnapping top officials of North Korea, the website added.
A source also revealed that top military officials signed the new war plan. These officials include: Admiral Choi Yoon Hee, chairman of the Joint Chiefs of Staff of South Korea; and General Curtis Scaparrotti, commander of the U.S. Forces Korea and the Korea-US, Combined Forces Command, Korea Joongang Daily reported on Aug. 27.
National Defense Minister Han Min Koo said the new war plan will be modified after it was used during a joint military drill in August, however, the defense minister did not give further details about the modification.
A contingency plan, signed by South Korea and US in 2013, is covered by OPLAN 5015. The contingency plan aims to respond to small-scale attacks from North Korea.
In addition, the new war plan aims to lessen the number of casualties due to warfare by limiting the area where it will take place.
© 2023 Korea Portal, All rights reserved. Do not reproduce without permission.