North Korea Lacks The Technology To Develop A Nuclear Missile That Can Reach The U.S., Pentagon Says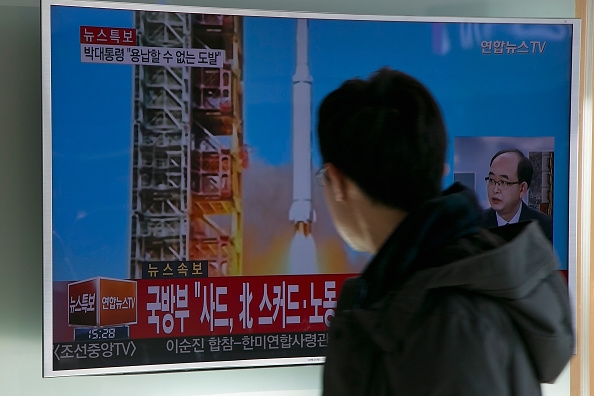 A new Pentagon report to Congress suggests that while North Korea is bent on propelling a nuclear-armed missile towards the United States, it does not have the capacity to do so without external help.
The report, which is required under the law, was written prior to Pyongyang's recent nuclear test and satellite launch. Nevertheless, it paints a very consistent picture of Kim Jong Un's intentions.
The report states that North Korea's KN-08 intercontinental ballistic missile may have the capability to launch an anti-U.S. strike if designed and developed properly, as noted by Straits Times Saturday. The complexity of the system would require multiple flight tests before it becomes operational.
The Wall Street Journal reported that Pyongyang has several short and medium-range ballistic missiles that could pose a threat to nearby neighbors South Korea and Japan. In an attempt to diversify its missile force, North Korea is also developing a submarine-launched ballistic missile capability.
"The pace of its progress will also depend, in part, on how much technology and other aid it can acquire from other countries," the report adds.
Although North Korea's weapons tech is still not up to par, the country's Special Operations forces was branded as "among the most highly trained, well-equipped, best fed and highly motivated" troops in Kim Jong Un's military.
The Pentagon report notes that the Special Operations units appear to have been trained purposely for "rapid offensive operations," which would mean they are capable of defending the country against foreign attacks. They reportedly "operate in specialized units, including reconnaissance, airborne and seaborne insertion, commandos and other specialties."
According to CNN, CIA Director John Brennan assessed Kim's showcase of military capacity as his way of establishing his strength as a key player in the global political arena. His pursuit to develop nuclear capability and ballistic missile capability at the same time would indicate that his reach has now exceeded the Korean Peninsula.
© 2023 Korea Portal, All rights reserved. Do not reproduce without permission.