Ringing South Korea's Bosingak Bell Isn't All Fun And Games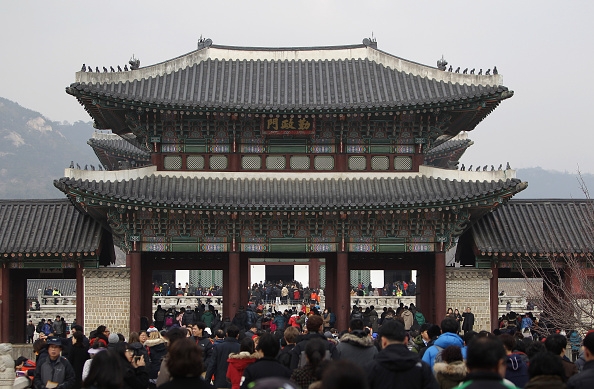 Every New Year's Eve, many South Koreans visit the Bosingak Pavilion in Jongno in central Seoul in order to experience the ringing of the massive Bosingak Bell, according to the Korean news outlet Arirang.
Although ringing the Bosingak Bell might seem like a fun task, the responsibility is a fairly big one for Seoul City official Shin Chul-min.
"People think that ringing the bell does not require any technique, but it is quite the opposite," 41-year-old Shin said, according to The Korea Times.
"People say they like the sound as it calms their mind, but do not think about how the sound is actually made. In fact, the bell is being damaged, or I'd rather say 'sacrificed,' every time it makes that sound by being hit by the 200-kilogram bell pounder. That is why it requires the utmost effort in controlling the power to pound the bell."
Technique is indeed a priority because the giant bell isn't rung just once. When it was time to ring in 2015, the bell was reportedly rung a total of 33 times, a number that has special meaning in Buddhism.
Although a small crowd of people are seen surrounding the bell during the time of the ringing, Shin is reportedly the only person responsible for the sounds.
"The ringing participants usually want to pound the bell as hard as possible to make the loudest sound possible, which is very damaging to the cultural asset," he said.
The history that the Bosingak Bell holds is a great one, as the pavilion was reportedly built back in the 14th century so the bell could notify people that the gates around Seoul were being opened and closed. The bell is now rung on only special occasions including Foundation Day, Liberation Day and New Year's Day.
Even though it's rung only three times a year, the task of ringing the bell is so demanding that Shin reportedly gets sick and stays in bed for a week afterwards.
However, as his teacher, the late Cho Jin-ho, taught him, Shin values the task at hand.
"My master Cho emphasized that I should treat and serve the bell with respect, saying what matters is the attitude toward the responsibility," he said.
"That still lives on with me."
© 2023 Korea Portal, All rights reserved. Do not reproduce without permission.