U.S. Representative For North Korea Policy Sung Kim Arrives In Seoul For The Eighth Annual Korea-U.S. Integrated Defense Dialogue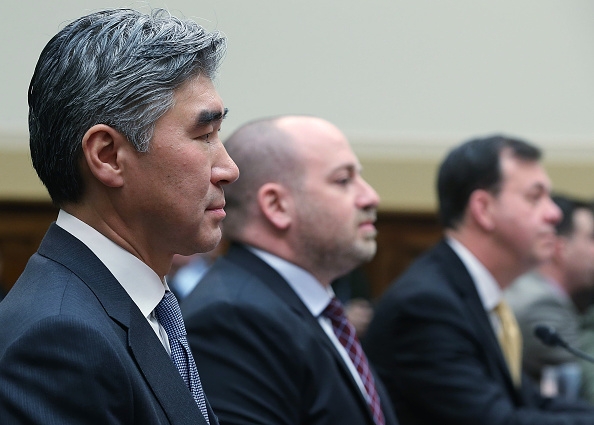 US Representative for North Korea policy Sung Kim arrives in South Korea to meet with various officials in Seoul for the eighth annual Korea-US Integrated Defense Dialogue (KIDD) which focuses on the allies' response on North Korea provocations.
The former US special envoy for the six-party talks arrives at Incheon International Airport on Tuesday for KIDD, wherein he tells reporters that he will be meeting officials to continue the close coordination between South Korea and US on North Korea.
Aside from that, Kim adds that they will also tackle about the preparations for President Park Geun Hye's trip to Washington where she will meet the US President Barrack Obama on October 16, as reported by Yonhap News on the same day.
Meanwhile, Vice Foreign Minister Cho Tae Yong says Kim's visit in the country is "timely."
"As you said, it is an important period in terms of our North Korea coordination," Kim answers.
North Korea reportedly threatens to launch a long-range rocket to mark the 70th anniversary of North Korea's ruling party next month. Aside from that, the country reportedly declares that it has reopened the Yongbyon nuclear site.
"The world will clearly see a series of satellites of [North] Korea soaring into the sky at the times and locations determined by the Central Committee of the Workers' Party of Korea," state-run news agency KCNA reports.
On the other hand, President Park warns that North Korea will pay a price if it will pursue with its provocations.
"Should the North go ahead with provocative actions that violate the UN Security Council resolutions, there will certainly be a price to be paid," Park says in a dispatch, as noted by Bloomberg Business on Friday.
She goes on, "The Korean government is making every diplomatic effort to prevent the North from further belligerence, by working closely together with the international community including the US."
The South Korean president left on Friday to attend the UN General Assembly in New York. She is also set to attend the Sustainable Development Summit on Saturday.
© 2023 Korea Portal, All rights reserved. Do not reproduce without permission.