Educating Students About Wartime Sexual Slavery Goes Beyond Teaching Teens About History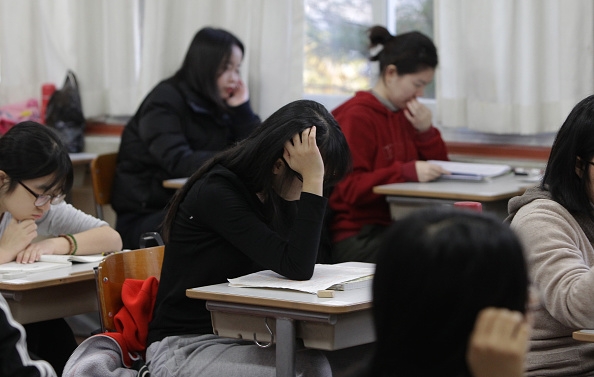 Almost 200,000 women were estimated to have been forced into sexual slavery before and during World War II with the majority of the victims from Korea, according to The Korea Times.
The special workbooks, along with a three-minute video and a lecture, have a purpose that goes beyond teaching students about sexual slavery during World War II.
"It is important for students like you to know what happened and understand this terrible part of history," Gender Equality and Family Minister Kim Hee-jung told the students before the class.
"Sexual slavery is an ongoing issue related to rights of women around the world, and your role will be important in solving it."
The teaching aids were provided by the Ministry of Gender Equality and Family and the Ministry of Education, according to The Japan Times. Starting next year, the material will reportedly be taught at all schools.
Currently, only 17 schools around the country have reportedly chosen to use the material for its students. There are hopes that more schools will join the program so that students could have an extensive understanding of the subject, something the existing history textbook doesn't provide.
"The existing history textbook only covers the subject briefly. The new workbook helps students understand what a sex slave is; how the women were forced into the situation; and what that means to the victims," explained history teacher Kwon O-chung.
The history session was received well by students at Yonhi Middle School in Seoul.
"I've heard about sex slaves, but didn't know the details until today ― especially how they were forced into slavery," Kim Do-hee, one of the students, said.
"As a woman, the issue touches me deeply, and I feel sorry for the victims."
© 2023 Korea Portal, All rights reserved. Do not reproduce without permission.