Jimmy Fallon To Divorce Wife Nancy Juvonen? Couple Disprove Rumors As They Get Wasted Together!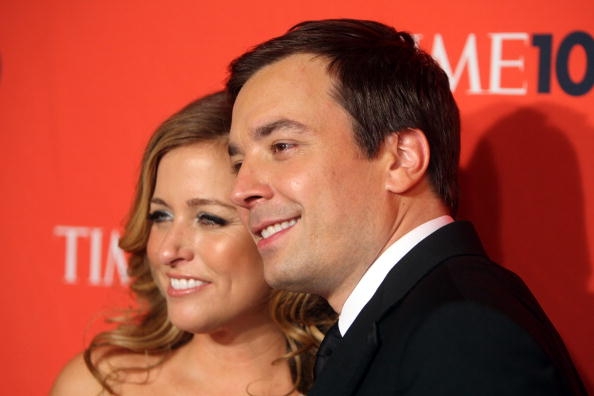 Jimmy Fallon and his wife, Nancy Juvonen have been rumored to be struggling with their marriage so much that it might lead to divorce.
While news is brewing, the couple recently tried to disprove the rumors as a sweet photo of them was uploaded online.
Over the holidays, Jimmy Fallon, his wife and their two daughters, Winnie and Frances, started a holiday tradition together at Serendipity three in New York. The tradition? To get chocolate wasted together.
The moment was captured on photo and was uploaded on Jimmy Fallon's Instagram account.
"Thank you to the nicest people at Serendipity 3!!! Starting a new family tradition," Fallon wrote, along with the hashtag #FrozenHotChocolate.

Jimmy Fallon and his wife, Nancy Juvonen have been married for eight years. Like any other marriage, theirs is not perfect.
Many gossip websites have claimed that the couple have been struggling with their relationship for the past few months.
The rumors started after the host sustained a severe finger injury called a "ring avulsion," which nearly prompted doctors to cut off his ring finger.
"I tripped and fell in my kitchen on a braided rug that my wife loves and I can't wait 'til I burn it to the ground," he explained after a two-week absence from "The Tonight Show."
"I tripped and fell and I caught my fall and I'm getting up and my finger's sideways," he added.
Despite Fallon's explanation, unsupported reports claim the accident was a result of Fallon's antics whenever he gets drunk.
"While the late night host blamed his gruesome injury on his two left feet. He was actually two sheets to the wind after night on the town with two young women," Celeb Dirty Laundry reported in July.
"Nancy was really angry," the website alleged. "Jimmy's bad behavior has been getting worse and she totally lost her temper. She has been asking herself how he can possibly take care of his family when he can barely take care of himself. Nancy is really sick of it and I wouldn't be surprised if she is threatening divorce."
After the said finger injury, the "Tonight Show" host had two more accidents - one, where he chipped his front tooth and the other where he injured his hand from a broken Jägermeister bottle.
Since the photo got uploaded, fans have been saying that they are still not convinced and still think Jimmy Fallon is still set to divorce with his wife Nancy Juvonen soon.
© 2021 Korea Portal, All rights reserved. Do not reproduce without permission.