South Korea And Japan Reaches Deal To End The Issue On 'Comfort Women', Prime Minister Shinzo Abe Offers Apology to South Korea Victims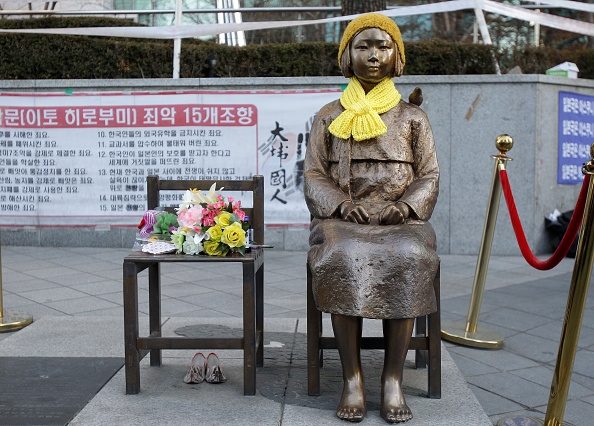 South Korea and Japan may now be able to establish stronger bilateral ties after an agreement to "finally and irreversibly" settle the issue on Tokyo's sexual enslavement of tens of thousands of Korean women during the World War II, reported The Guardian on Monday.
According to a statement released in Seoul by foreign minister Fumio Kishida, Japanese Prime Minister Shinzo Abe reportedly offered his apologies to the South Korean "comfort women" who were sexually abused by wartime Japanese soldiers.
"Prime Minister Abe expresses anew his most sincere apologies and remorse to all the women who underwent immeasurable and painful experiences and suffered incurable physical and psychological wounds as comfort women," Kishida told reporters.
"Japan and South Korea are now entering a new era," said Abe who was committed to ending the issue in order to prevent future generations from having to apologize over and over again. "We should not drag this problem into the next generation."
On the other hand, South Korean President Park Geun Hye agreed to the deal in order to finally settle the sex slave issue that has long plagued the country, especially the women.
"I hope the mental pains of the elderly women will be erased," said Park.
According to BBC on Monday, the deal involved a one billion yen fund from Japan for the elderly comfort women of South Korea, as well as a deep and sincere apology from Prime Minister Abe taking "deep responsibility" for the issue.
Meanwhile, South Korea promises to treat the issue "finally and irreversibly" once Japan fulfills their end of the deal, and to consider taking down a statue built by activists outside the Japanese embassy in Seoul four years ago that represents the South Korean comfort women.
The deal would also lift what Park has considered as "the biggest obstacle efforts to improve bilateral relations," noted Japan Times on Monday.
Stronger relations between the two countries are essential for the U.S. as together, the countries host around 80,000 U.S. soldiers and are part of the six-party talks that focus on putting an end to the nuclear plans of North Korea.
South Korea and Japan are both considering to announce the irreversible deal in a joint statement to be issued by Park and Abe in their upcoming talks, which could possibly be set in the U.S.
© 2023 Korea Portal, All rights reserved. Do not reproduce without permission.