Apple Swift Programming Language Turned Open Source!; Will It Work For Android And Windows OS?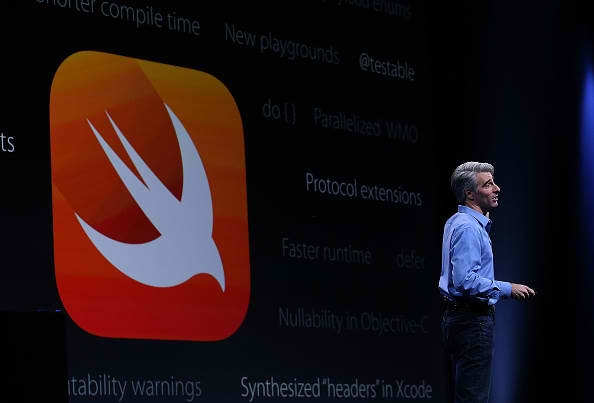 Apple's programming language, Swift has turned into an open source to allow system developers take full advantage of it.
iOS and OS X developers are the target for the Swift open source version under the Apache License. This change will include codes that can be revised, compiled and make programs without additional attributes via its package managers.
Swift Creator Chris Lattner started working on its program in 2010 and was release in 2014 during a developer's conference. Lattner said that the codes were from computer languages like "Objective-C, Rust, Haskell, Ruby, Python, C#, CLU, and far too many others to list," according to Tech Crunch. The system can be used for developing desktop applications and iOS systems.
Swift open source computer language is composed of command tools for executing programs and Linux binary codes.
Apple's programming language runs through Swift.org, and source codes will be available and seeded by GitHub's tool. Its compilers will work on Mac OS X as well as on Linux that enables engineers to recreate the program's codes into a working application.
Using the open source version of Swift, developers can change the format of their created app so that it will be compatible for not only Linux and Mac OS X but also with watchOS, iOS devices, and Apple TV's Operating System.
The Swift team's programming language purpose is to provide "easy to write software that is incredibly fast and safe by design," according to Swift.Org.
Developers can fully utilize the open source Swift tools in creating social networking applications and 3D games, according to Engadget.
Swift programming language wasn't developed for Windows or Android however, since the company has made it an open source, so it is reported to be compatible with all other existing Operating Systems.
In terms of running the program into OS servers, a company called Perfect is trying to integrate it on Linux servers.
CEO, Sean Stephens shared his insights about open sourcing value for developers saying that, "It's how they share their thoughts and ideas," according to Wired.
"In the closed source world, developers don't have a lot of room to move," Stephens added.
© 2023 Korea Portal, All rights reserved. Do not reproduce without permission.