Indulge in the Irresistible Delight of Homemade Cheese Fondue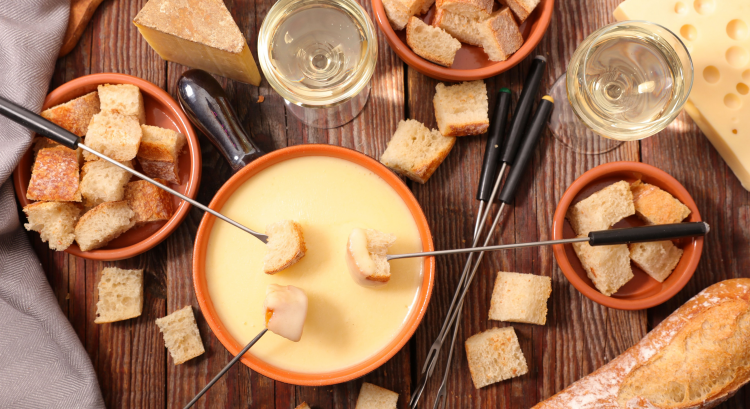 Nothing quite compares to the warm, gooey, and utterly delicious experience of indulging in cheese fondue. This classic Swiss dish is perfect for gatherings or cozy nights in. With a few simple ingredients and a bit of culinary know-how, you can easily recreate the magic of cheese fondue in the comfort of your own home.
To make your own cheese fondue, you will need the following ingredients: 1 pound of your favorite cheese (such as Gruyère, Emmental, or Swiss), 1 clove of garlic, 1 cup of dry white wine, 1 tablespoon of lemon juice, 1 tablespoon of cornstarch, 1/4 teaspoon of nutmeg, and freshly ground black pepper. You'll also need a fondue pot or a heavy-bottomed saucepan and long forks or skewers for dipping.
Start by grating the cheese and setting it aside. Next, rub the inside of the fondue pot or saucepan with the garlic clove, then discard the clove. Pour the white wine and lemon juice into the pot and heat it over medium-low heat until it simmers gently. Gradually add the grated cheese, stirring constantly in a figure-eight motion until it melts and combines with the wine. In a small bowl, mix the cornstarch with a little water to create a slurry and then add it to the pot to thicken the fondue. Season with nutmeg and black pepper to taste.
Once the cheese fondue is smooth and creamy, transfer the pot to a fondue stand or place it on a heat-resistant surface. Set up a platter of dippable delights such as cubed bread, steamed vegetables, apple slices, or cured meats. Encourage your guests to spear their desired treats with long forks or skewers and dip them into the bubbling cheese fondue. The communal experience of sharing a pot of melted cheese adds to the fun and creates a convivial atmosphere. Remember to stir the fondue occasionally to prevent it from clumping.
Making cheese fondue at home is a delightful culinary adventure that brings people together and creates lasting memories. With a few simple steps, you can savor the irresistible flavors of melted cheese and enjoy a communal dining experience. So, gather your loved ones, dip to your heart's content, and relish the sheer joy of homemade cheese fondue.
© 2023 Korea Portal, All rights reserved. Do not reproduce without permission.