Results of South Korea's College Scholastic Ability Test This Year Show a Significant Drop in Perfect Scores Compared To Last Year's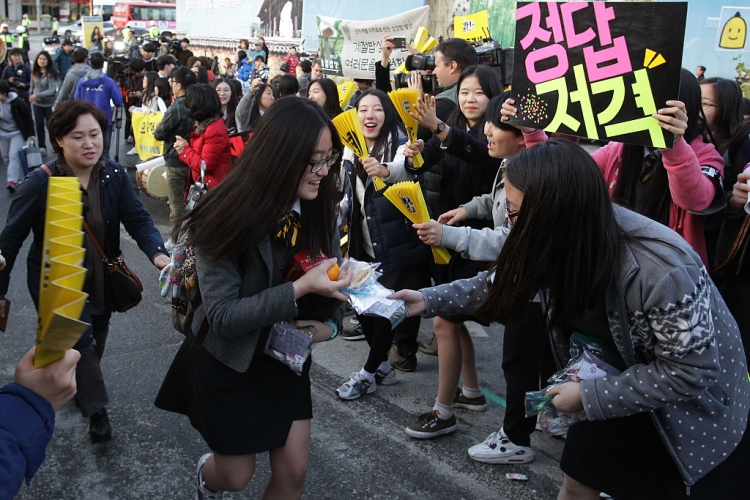 This year's state-administered College Scholastic Ability Test (CSAT) proved to be more difficult compared to last year's and the numbers consequently indicate a decline.
The Korea Institute of Curriculum and Evaluation (KICE), the government agency that administers the tests, revealed on Tuesday the breakdown of the scores for the 2016 school year.
According to Korea Joong Ang Daily, the results for the 2015 exams showed a wider disparity in terms of scores for all three core sections which are math, English and Korean. This is strikingly different from last year's outcome that indicated a high number of perfect scores, pegging the exam as being "too easy".
For Korean A, the rate for students who got perfect scores was only 0.8 percent which is about 2,198 students, while only 931 students or 0.3 percent got perfect scores for Korea B. Only 0.31 percent or 1,206 students got perfect scores for Math A; 1.66 percent or 2,597 students for Math B; and 0.48 percent or 2,709 students for English.
The percentages were taken from 630,000 students who took the CSAT in November.
For the 2016 school year, 197 universities are expected to grant admissions to more than 116,000 college aspirants.
The scores for all subjects showed a decrease from last year's. In 2014, 1.37 percent of test-takers earned perfect scores in Korean A, 0.09 percent in Korean B and 2.54 percent in Math A. The only subject that sustained high points was Korean B.
The Economist noted in a report on Nov. 8, 2013 that the CSAT is a five-part, multiple-choice admissions test deeply rooted in South Korea's Confucian passion for education.
South Korean high school students are divided into two groups: those who will major in general sciences and those who will opt for liberal arts. General science majors are required to take Korean A and math, while those who want to take the liberal arts program are required to complete Korean B and math A.
CNN noted on Nov. 13, 2011 that the CSAT is an important event for students and South Korea who reportedly spend 7.6 hours studying in the classroom as part of their preparations. Many test-takers will even reduce time for sleep to just five hours a day throughout the year prior to the CSAT
© 2022 Korea Portal, All rights reserved. Do not reproduce without permission.