Have Some Delicious Jeukseok-tteokbokki!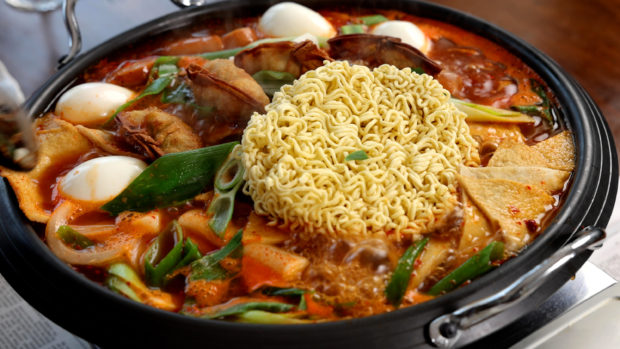 We can never say no to Korean food, especially when it comes to Tteokbokki! In case you don't know what this is, it is a popular Korean street food. The dish however named jeukseok-tteokbokki is a spicier, bubbling stew that you cook and eat while sitting at a table in a restaurant 2 to 4 people.
While this dish is popular among Korean restaurants, you can actually make this at home as well. You must need Korean gochujang and Korean hot pepper flakes (gochu-garu), as well as chunjang (black bean paste) which is the main ingredient in jjajangmyeon. The chunjang will give add a bit of saltiness and make stew having a little dark color. If you want, you also use the flavor packet from the Korean instant Ramyeon too.
For the broth, you can use either anchovy kelp stock or vegetarian stock instead of just plain water. You can also add in mandu (Korean dumplings) on your stew, but it's recommended that you fry them first so that it wouldn't break easily when they are placed in your stew.
Now, let's not forget the main ingredient for this, which is garaeteok (long and thin rice cakes). While this is actually available in your nearest Korean grocery store, you can actually make this as home as well if you want it unique. Just an important note if you are buying those from the store, make sure not purchase those that have any dried or flaky rice powder on the cakes because they are old and dried out stock.
So to summarize, you need the following ingredients: 2 minced garlic cloves, a package of soup power from Korean instant noodles (ramyeon), gochu-garu (1/4 cup), gochujang (1/4 cup), chunang (1 tablespoon), sugar (1-2 tablespoons), and ½ cup water (or your broth of choice.)
You can refer to here for more details on how to cook this delicious dish!
© 2023 Korea Portal, All rights reserved. Do not reproduce without permission.