"The Heirs" Co-stars Kim Woo Bin And Krystal Jung Spark Online Intrigue With LA Reunion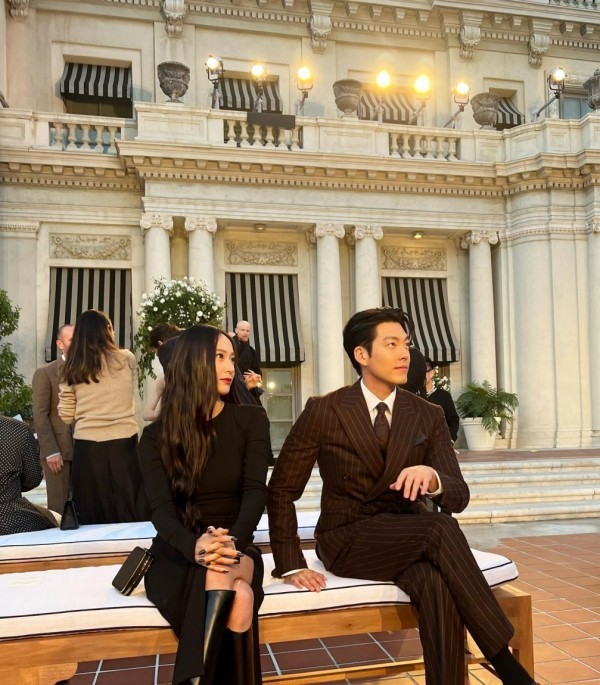 "The Heirs" co-stars Kim Woo Bin and Krystal Jung come together after nine years since the iconic drama wrapped up production back in 2013.
As global line ambassadors to the luxurious clothing brand Ralph Lauren, the two marvelous actors attended the Sprint 2023 fashion show in Los Angeles last October 16.
READ: RAIN's Agency Deploys Full Measures To Protect The Actor From False Cheating Allegations
Both stars eagerly shared their stunning reunion online as they posted photos of their night together during the elegant event.
The chic backdrop of the visually top-notch pair is no other than the Huntington Library, an art museum and scenic botanical garden close to Los Angeles proper.
The actor and actress even shared stunning photos of them standing beside the brand designer himself, Ralph Lauren, as well as a shot with singer-songwriter, John Legend.
Other Hollywood stars who attended the event included Jennifer Lopez, Ben Affleck, Diane Keaton, Laura Dern, Chris Pine, Lily Collins, and Robin Wright.
Still in character
While posting online, Kim Woo Bin playfully addressed the actress with her character's name in "The Heirs" by writing the caption, "Lee Bo Na, it's been a while?"
In just a couple of hours, Krystal Jung responded in tandem when she also uploaded photos of the two of them, captioning, "Nice to meet you, Choi Young Do!"
This simple but adorable interaction quickly raised online attention from fans who witnessed the exchange. Many of the viewers agreeably commented that they've waited years for a heartwarming interaction between the co-stars to happen.
And the show goes on
On top of attending shows and events, Kim Woo Bin and Krystal Jung have been busy preparing for future drama projects.
READ: 'The Perfect Time': BigHit Music Confirms BTS Members To Enlist In The Military Starting With Jin
Kim Woo Bin will return for her role in part 2 of the blockbuster film "Alien" alongside Kim Tae Ri and Ryu Jun Yeol. This movie grossed 12 million USD during its premiere while the sequel is slated to release in 2023.
Krystal Jung also has a film coming up in 2023 called "Cobweb". It portrays the life of a movie director who plans to reshoot the conclusion of a finished movie in the face of pressure from authorities and workmates. The film will also feature top celebrities Im Soo Jung, Jeon Yeo Bin, Oh Jung Se, and Song Kang Ho.
© 2022 Korea Portal, All rights reserved. Do not reproduce without permission.