North Korean Women Resort To Prostitution Or Become Victims Of Sexual Trafficking After Turning Into Defectors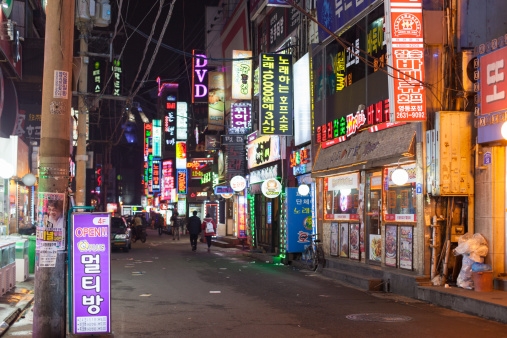 A number of women from North Korea who have become defectors are reportedly becoming victims of sexual trafficking or resulting to prostitution in other countries.
According to Korea Times on Monday, around 40 to 50 female defectors are working at "ticket dabangs," a type of coffee shop where women travel directly to customers providing sexual service, in Hwaseong, Gyeonggi Province, where other North Korean defectors own some of these coffee places.
These defectors entering the prostitution industry are mostly in their late 30s to mid-40s, with clients ranging from 50 to 70 years of age who come not only from Hwaseong, but from other towns and other regions as well.
One female defector admitted to earning 25,000 won per hour for accompanying a client to sing in karaoke rooms, while another defector demanded 100,000 won for sexual services. Some of these women used to work as waitresses in restaurants or employees in companies, but realized that they were not earning enough for daily living.
"Through working at restaurants, for example, it is hard for them to live a life they dreamed of before defecting," said Suh Bo Hyuk, professor of Humanities Korea Research at Seoul National University Institute for Peace and Unification Studies. "This has made it difficult for some female defectors to overcome the temptation to work in prostitution."
In China, the nation's government works cooperatively with North Korea to bring home these defectors. It even subjects South Korean groups and ethnic Koreans in the country to crackdowns, noted UPI on Nov. 19.
"One of the results of that crackdown, according to the U.N, is that this has helped really increase the influence of smuggling and trafficking groups," said Roberta Cohen, co-chairwoman of the Americas of the Committee for Human Rights in North Korea.
These women are often times drugged by traffickers to be sold over the border to Chinese men looking for wives. "Or they're sold into prostitution," added Cohen.
"They said if you are in China you have to be sold, you have to get married," said Park Yeonmi, a victim of trafficking in China who is now a rights advocate based in South Korea campaigning against trafficking. "My mum was sold for $65 and I was sold for $260 - at the age of 13."
"The ring of human traffickers always used the women before they were sold," said Park, adding that some women even wished to be sold into prostitution to be able to save up money to send home.
© 2019 Korea Portal, All rights reserved. Do not reproduce without permission.