Record-Breaking Kings: JYP's Stray Kids Makes Hanteo History, K-Pop's Top Fourth-Gen Idol Group Right Now!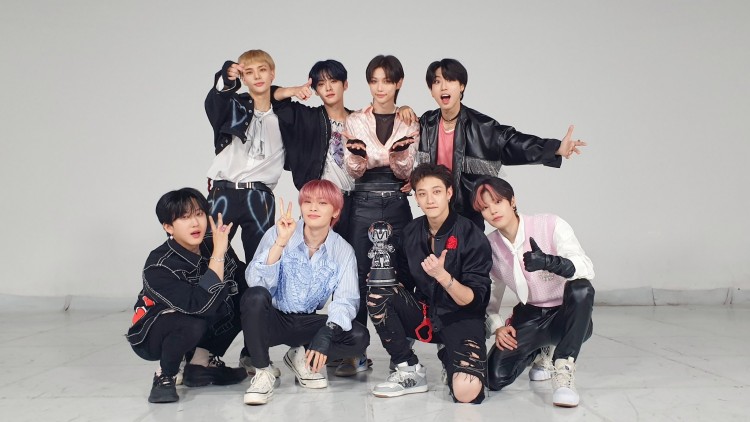 JYP Entertainment's Stray Kids is off to break more records with their newest album, "MAXIDENT."
Stray Kids made their highly-anticipated return last week. The boy group dropped its seventh mini-album "MAXIDENT" alongside the title track "CASE 143" which received so much love from STAYs all around the world.
In fact, as of the writing of this article, the music video for "CASE 143" has surpassed 37 million views on YouTube.
[]

Stray Kids "CASE 143" M/V has surpassed 37,000,000 (37M) views on YouTube!

: https://t.co/rh71fYtUX6@Stray_Kids #StrayKids #MAXIDENT #CASE143 pic.twitter.com/RfoksDy8s5 — Stray Kids Global (@StrayKidsGlobal) October 16, 2022
Meanwhile, Stray Kids' "MAXIDENT" made history in Hanteo.
Stray Kids cements itself as K-Pop's top 4th generation idol group right now!
With its newest EP, Stray Kids is proving its dominance in the tough K-Pop arena. It is recently reported that Stray Kid's "MAXIDENT" sold a whopping 2.18 million copies in the first week of its release. This does not only broke Stray Kid's own first-week sales record of 853k for "ODDINARY" but puts the idol group just below BTS in Hanteos' "K-Pop Idol Groups With The Highest First-Week Sales" ranking.
Show us your best CASE 143 moves on TikTok or Instagram Reels
for a chance to win a signed copy of MAXIDENThttps://t.co/C0Hevk2cjz#StrayKids #스트레이키즈#MAXIDENT#CASE143#StrayKidsComeback#YouMakeStrayKidsStay pic.twitter.com/iHE0U2EPDC — Stray Kids (@Stray_Kids) October 14, 2022
Not only that but Stray Kids' "MAXIDENT" is currently the fourth K-Pop album with the highest first-week sales of all time. Bested only by BTS' "Map of the Soul: 7," "Proof," and "BE."
In addition, Stray Kids is also the best-selling 4th-generation K-Pop idol group this 2022. The JYP Entertainment boy group has sold almost 4 million copies this year alone and the number is expected to increase as we approach the end of the year.
[스키지기]
CASE 143 세 번째 1위
모든 건 다 스테이 덕분! 우리 스테이 하트 길만 걸어요

스
테
이 #StrayKids #스트레이키즈 #MAXIDENT#CASE143 #뮤직뱅크 #MusicBank#YouMakeStrayKidsStay pic.twitter.com/yJrPz4xxDj — Stray Kids (@Stray_Kids) October 14, 2022
As of the writing of this article, Stray Kids has secured three music show crowns for "CASE 143."
Congratulations to Stray Kids!
© 2022 Korea Portal, All rights reserved. Do not reproduce without permission.