MOAs Worried As TXT's Beomgyu & Huening Kai Are Targeted With Threats & Negative Comments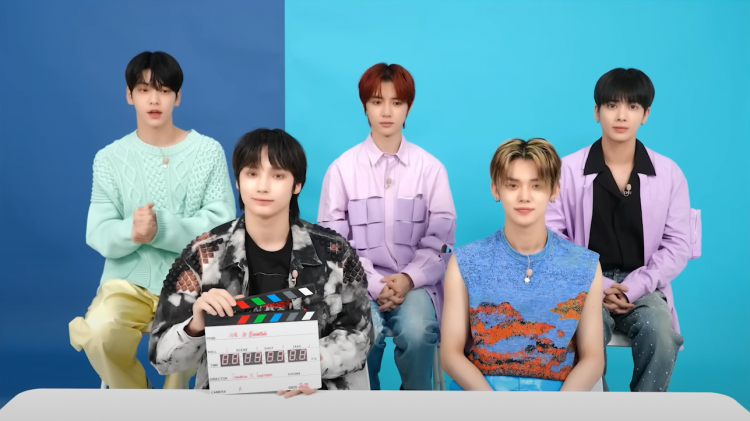 Why are K-Pop fans worried about TXT's Beomgyu and Huening Kai? Find out here.
READ: Better Than Before: TXT's Soobin Proudly Reveals How Far He Has Come Since Debut
Notably, on the social platform Weverse, fans are able to leave messages for their favorite K-Pop idols. These stars, in turn, can see and respond to the messages. Most messages are innocent and sweet. But sometimes, anti-fans can go a bit too far.
Just recently, fans were able to see some users leaving horrible threats of violence toward TXT's Beomgyu and Huening Kai. Supposedly, the users will act on their threats during the US part of TXT's 2022 "TOMORROW X TOGETHER WORLD TOUR " tour.
MOAs are now worried about Beomgyu and Huening Kai's safety. Thus, fans have been sending messages to HYBE, TXT's label, to make the agency aware of the threats and negative comments targeted toward their idols.
Though, HYBE has not yet responded to TXT fans as of writing this article. To add more attention to the situation, MOAs are making the hashtags #ProtectBeomgyu and #ProtectHueningKai trend online.
IF U NEED AN UPDATED TEMPLATE REGARDING AND I MADE ONE!

PLEASE EMAIL BIGHIT IMMEDIATELY!!!! https://t.co/fLRH9gWhgS — act : em | ia (@emstxt) July 5, 2022
READ: HYBE Allegedly Negotiating With The Lawyers Of Victims & Plans On Keeping Kim Garam In LE SSERAFIM's Lineup
Furthermore, fans have also reached out to the individual venues where TXT will be performing during their US leg. To the delight of MOAs, some venues have responded by telling fans that they will make sure of TXT's safety.
Fans are hopeful that TXT's Beomgyu and Huening Kai will have ensured safety. No one, either a regular netizen or a K-Pop idol should face negative comments such as the aforementioned threats.
Stay tuned for more news and updates regarding TXT and other K-Pop artists!
© 2023 Korea Portal, All rights reserved. Do not reproduce without permission.
Tags:
kwave
,
kwave news
,
kwave updates
,
Kpop
,
kpop news
,
Kpop updates
,
HYBE
,
HYBE artists
,
HYBE TXT
,
HYBE Labels
,
HYBE Labels artists
,
TXT
,
TXT news
,
TXT updates
,
TXT Beomgyu
,
TXT Beomgyu news
,
TXT Beomgyu updates
,
Beomgyu
,
Beomgyu news
,
Beomgyu updates
,
TXT Huening Kai
,
TXT Huening Kai news
,
TXT Huening Kai updates
,
Huening Kai
,
Huening Kai news
,
Huening Kai updates
,
TOMORROW X TOGETHER WORLD TOUR
,
2022 TOMORROW X TOGETHER WORLD TOUR tour