Small Screen Royalties: The Top Korean Drama Actors For The Month Of June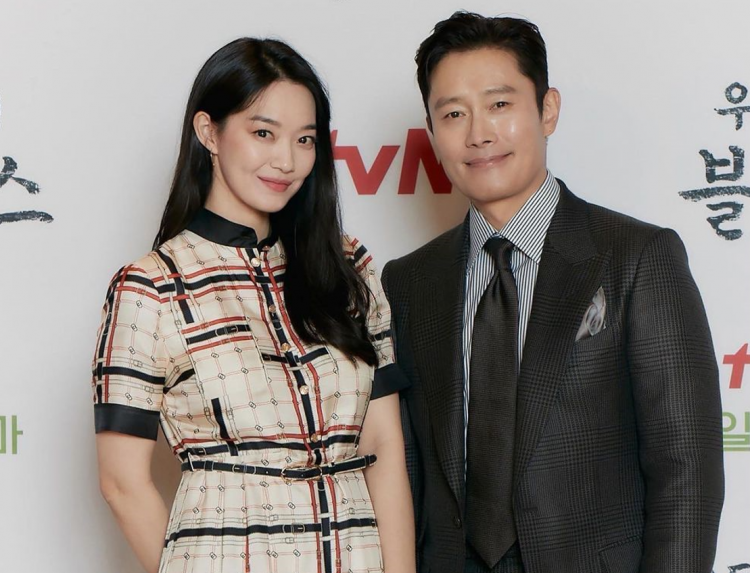 Another brand reputation ranking of Korean celebrities has recently been listed, but this time focusing on Korean actors and actresses on the small screen. Previously, Korean celebrities singers, K-Pop boy, and girl groups, and members were listed.
READ: IU Joins PSY, BTS, & Lim Young Woong As The Top Singers Of May, See Full Rankings
In this article, June's top K-Drama stars were ranked. Notably, the data (which is gathered from the Korean Business Research Institute) for the brand reputation rankings for K-Drama stars were gathered from the 5th of May until the 6th of June 2022.
Did your favorite K-Drama star make the top 30? Find out below!
READ: BLACKPINK's Jennie Takes Home The Crown In May's K-Pop Girl Group Member Brand Reputation Rankings
#1 Son Suk Ku
Actor Son Suk Ku, who starred in JTBC's "My Liberation Notes," collected a brand reputation index of 4,323,087. Furthermore, the actor's positivity-negativity analysis got a score of 84.57% positive reactions, showing how much viewers like him.
#2 Lee Byung Hun
Taking home second place is Lee Byung Hun. For this month, the actor got a brand reputation index of 2,615,212. He is not the only star from "Our Blues" though as his co-star followed closely in third place.
#3 Shin Min Ah
Actress Shin Min Ah is the second star from "Our Blues" who entered the top 3. The actress saw a total index of 2,420,996 for this month to the delight of her fans.
Here are the 30 K-Drama stars on top of the brand reputation rankings for this June:
#1 Son Suk Ku
#2 Lee Byung Hun
#3 Shin Min Ah
#4 Lee Joon Gi
#5 Lee Min Ki
#6 Im Soo Hyang
#7 Han Ji Min
#8 Lee El
#9 Jeong Dong Won
#10 Kang Han Na
#11 Seo Hyun Jin
#12 Park Hae Jin
#13 Lee Joon
#14 Jin Ki Joo
#15 Jung Joon Ho
#16 Hong Ji Yoon
#17 Cha Seung Won
#18 Lee Sung Kyung
#19 Kim Ji Eun
#20 Kim Ji Won
#21 Hwang In Yeop
#22 Lee Kwang Soo
#23 Lee Seo Jin
#24 Sung Hoon
#25 Lee Jung Eun
#26 So Ji Sub
#27 Lee Kyung Young
#28 AOA's Seolhyun
#29 Park Ju Hyun
#30 Jang Hyuk
READ: IVE Reaches Milestone By Becoming May's Top Girl Group Followed By (G)I-DLE & BLACKPINK, Full Rankings Here
Congratulations to all the Korean actors, and actresses who made the list for this month's brand reputation rankings for K-Drama stars!
© 2022 Korea Portal, All rights reserved. Do not reproduce without permission.
Tags:
kwave
,
kwave news
,
kwave updates
,
Kdrama
,
kdrama news
,
kdrama updates
,
The Korean Business Research Institute
,
The Korean Business Research Institute news
,
The Korean Business Research Institute updates
,
The Korean Business Research Institute brand reputation rankings
,
brand reputation rankings
,
brand reputation rankings news
,
brand reputation rankings updates
,
kdrama brand reputation rankings
,
brand reputation rankings kdrama
,
kdrama stars
,
kdrama actress
,
kdrama actors
,
kdrama actor
,
kdrama actresses
,
Son Suk Ku
,
Lee Byung Hun
,
Shin Min Ah
,
Lee Joon Gi
,
Lee Min Ki
,
Im Soo Hyang
,
Han Ji Min
,
Lee El
,
Jeong Dong Won
,
Kang Han Na
,
Seo Hyun Jin
,
Park Hae Jin
,
Lee Joon
,
Jin Ki Joo
,
Jung Joon Ho
,
Hong Ji Yoon
,
Cha Seung Won
,
Lee Sung Kyung
,
Kim Ji Eun
,
Kim Ji Won
,
Hwang In Yeop
,
Lee Kwang Soo
,
Lee Seo Jin
,
Sung Hoon
,
Lee Jung Eun
,
So Ji Sub
,
Lee Kyung Young
,
Seolhyun
,
AOA Seolhyun
,
Park Ju Hyun
,
Jang Hyuk