The Pokémon Go Maker Is Releasing An AR Map And A Location-based Social Network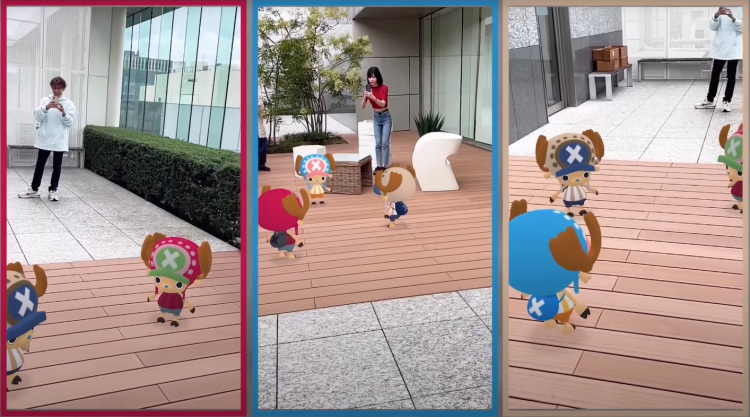 Niantic rose to fame in the mobile gaming space through the success of its augmented reality game Pokémon Go. The company revealed that they'll be dabbling in AR further by creating a platform for developers to build location-aware AR apps upon.
The AR location mapping software is called the Visual Positioning System (VPS), a sort of gesture to GPS. The technology works by making AR experiences grounded to a physical location. It can be in front of a statue or right under a lamppost, as opposed to an object that's just floating inconstantly through a phone camera's screen.
READ: Google Acquired A MicroLED Display Company That Could Make AR Headsets Better
Developers can also use VPS as a feature of Niantic's more expansive Lightship SDK, which theoretically lets multiple devices access a shared AR experience at the same time. Because a VPS makes AR content or objects persist at a location, as long as someone is using the same app, they can see the same thing you do.
VPS will be free during an initial public beta period and will shift to a tiered billing system later this year that's based on an app's number of monthly users, according to Niantic spokesman Jonny Thaw.
In addition to the AR system, Niantic is this week also starting Campfire, a location-based social network that integrates with its games and future apps that employ Lightship. Campfire will use the list of friends in your Niantic account to display their locations on a map if they join in, along with nearby in-game experiences.
You can use the network to organize real-life meetups for experiences like a joint Pokémon raid and chat with other players in a group. The goal is for Campfire to make Niantic's games more social while providing a way for other developers to have their Lightship-powered apps discovered by the millions of users of the company.
READ: Samsung Released A Pokemon-Inspired Galaxy Buds Case For The Traveling Trainer
Niantic has already crowdsourced millions of phone camera scans of real-world locations from both Ingress and Pokémon Go players. The company claims to have more than 20,000 VPS-activated locations around the world, together with centimeter-level precise maps for massive parts of San Francisco, London, Tokyo, Los Angeles, New York City, and Seattle.
© 2022 Korea Portal, All rights reserved. Do not reproduce without permission.