The 4 Evidence-Based Benefits Of Aronia Berries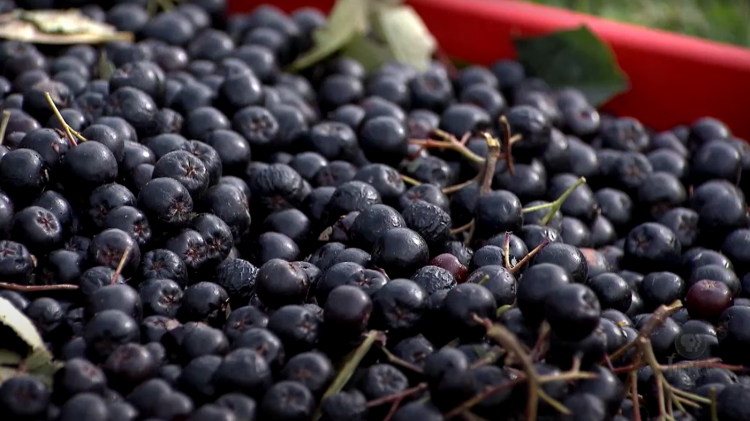 Aronia berries, also known as Aronia melanocarpa, are small and dark berries that are considered one of the richest sources of plant antioxidants. They grow on shrubs of the Rosaceae family native to North America and are also grown in other parts of the world, including across Europe.
Traditionally, Aronia berries have been used as a remedy for the cold. They can come in fresh, frozen, dried, and in powder form and simulate a strong mouth-drying effect, hence why they are also called chokeberries. They are perfect for juices, purées, jams, jellies, syrups, teas, and wines. Here are some of their health benefits:
Full of nutrition
While low in calories, they pack a wide range of vitamins and are high in fiber. A single ounce (28 grams) of Aronia berries provides 13 calories, 4 grams of protein, 0.1 grams of fat, 2.7 grams of carbs, 1.5 grams of fiber, vitamin C (10% of the DV), manganese (9% of the DV), and vitamin K (5% of the DV). The berries contain folate, iron, and vitamins A and E as well.
Plus, they're an excellent source of beneficial antioxidants, which help protect your cells from potentially harmful molecules called free radicals. Aronia berries are particularly high in anthocyanins, which give the berries their dark blue to black color (5Trusted Source).
Powerful antioxidants
The chokeberries are also full of necessary antioxidants, compounds that defend your cells from damage brought about by free radicals. Too many free radicals can cause oxidative stress, leading to chronic conditions, such as heart disease and cancer. The berries also provide polyphenols, which is a group of antioxidants that includes phenolic acids, anthocyanins, and flavanols.
Several test-tube studies have shown that the antioxidants in Aronia berries can inhibit free the build-up of free radicals. They have also shown superior antioxidant activity when compared with four other types of berries.
Supports heart health
Likely as a result of its antioxidant properties, Aronia berries may improve one's heart health. It can especially be beneficial to individuals with metabolic syndrome, including conditions such as high cholesterol and triglyceride levels which increases your likelihood of future heart disease and diabetes.
In a 2-month study observing 38 people with metabolic syndrome, it was noted that after they were supplemented with 300 mg of Aronia extract daily, their triglycerides, LDL (bad) cholesterol, and total cholesterol significantly decreased. Further human research is needed to identify the contribution Aronia berries may provide in heart health.
Provide Immune Support
Aronia berries can also potentially strengthen and support a person's immune system. In one test-tube study, it was noted that Aronia berry extracts exhibited strong antibacterial activity against the potentially harmful bacteria Escherichia coli and Bacillus cereus. The effect was exerted by reducing the bacteria's production of a protective shield called biofilm.
Aronia berries might also reduce inflammation by inhibiting the release of pro-inflammatory substances, such as tumor necrosis factor-alpha (TNF-ɑ) and interleukin 6 (IL-6), which may boost immune health.
If you want to try out these benefits yourself, KPTown offers a bottle of Codeco Aronia at 25% off. It contains a high concentration of phenolic flavonoid phytochemicals called anthocyanins. Research has linked them to an increase in peripheral circulation, increased vision, enhanced immune systems, and wound healing.
© 2023 Korea Portal, All rights reserved. Do not reproduce without permission.