Setting Mics & Dance Floors Ablaze: Female K-Pop Artists Who Are Main Rappers & Dancers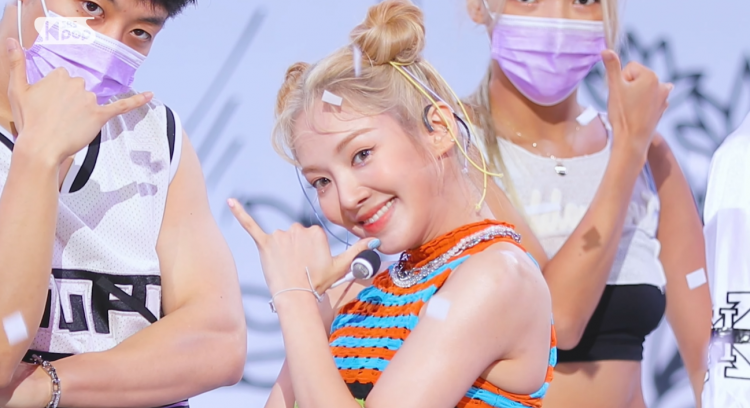 Depending on their specialty, members of K-Pop groups are assigned specific positions. Commonly given a main and a lead role. But on special occasions, some artists are given two "main positions."
READ: Femme Fatales Of K-Pop: Female Idols With Perfect Physiques
In this article, we listed down active female K-Pop artists who are the main rappers and dancers of their group. Is your bias among them? Find out below!
MAMAMOO's Moonbyul
Kicking off the list is MAMAMOO's very own Moonbyul. The "Windflower" singer is MAMAMOO's main dancer and main rapper as she not only stuns MooMoos (MAMAMOO's fandom) with her bars, but her flair on the dance floor is also unmatched within her group.
Girls' Generation's (SNSD) Hyoyeon
Hyoyeon is both the main dancer and main rapper of Girls' Generation. The female idol proved her rapping abilities during SNSD's "The Boys" release. Hyoyeon has also flexed her dancing skills on multiple occasions.
Oh My Girl's Mimi
The third female idol to be the main dancer and main rapper of her K-Pop group on this list is Mimi. The Oh My Girl member wows fans with her ability to keep a fiery flow while dancing her heart out on stage.
Weki Meki's Choi Yoojung
Excelling both in dance and rap is Choi Yoojung. This is the reason why she was chosen as the main rapper and main dancer of Weki Meki. The female K-Pop idol is known to not only wow fans with her talents, but also other artists on variety shows as well.
EVERGLOW's E:U
The previous leader of EVERGLOW, E:U is currently both the girl group's main rapper and main dancer. For Evers, EVERGLOW's fandom, always flock to her fancams to see the K-Pop idol bust a beat while showing her moves on the floor.
© 2023 Korea Portal, All rights reserved. Do not reproduce without permission.
Tags:
kwave
,
kwave news
,
kwave updates
,
Kpop
,
kpop news
,
Kpop updates
,
main dancer
,
main dancers
,
main rapper
,
main rappers
,
Mamamoo
,
MAMAMOO Moonbyul
,
MAMAMOO Moonbyul news
,
MAMAMOO Moonbyul updates
,
Moonbyul
,
Moonbyul news
,
Moonbyul updates
,
SNSD
,
Girls' Generation
,
Girls Generation Hyoyeon
,
Girls' Generation Hyoyeon news
,
Girls' Generation Hyoyeon updates
,
Hyoyeon
,
Hyoyeon news
,
Hyoyeon updates
,
SNSD Hyoyeon
,
SNSD Hyoyeon news
,
SNSD Hyoyeon updates
,
Oh My Girl
,
Oh My Girl Mimi
,
Oh My Girl Mimi news
,
Oh My Girl Mimi updates
,
Mimi
,
Mimi news
,
Mimi updates
,
Weki Meki
,
Weki Meki Yoojung
,
Weki Meki Yoojung news
,
Weki Meki Yoojung updates
,
Yoojung
,
Yoojung news
,
Yoojung updates
,
EVERGLOW
,
EVERGLOW E:U
,
EVERGLOW E:U news
,
EVERGLOW E:U updates
,
E:U
,
E:U news
,
E:U updates