Sandara Park Recovers Gracefully After Hilarious Accident During 2NE1's Coachella 2022 Performance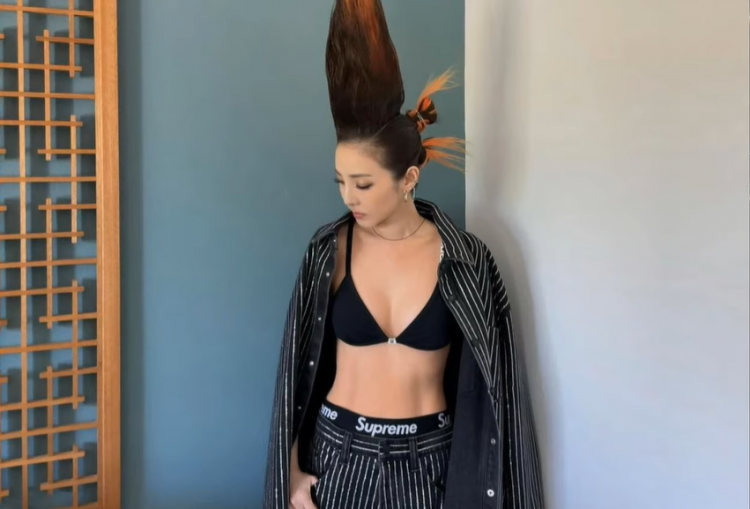 Blackjacks (the fandom name of 2NE1) were in for a treat as 2NE1 made a surprise reunion via an amazing performance at this year's Coachella. The legendary K-pop group left fans stunned, leaving a lasting memory with their surprise performance.
READ: 2NE1 Shocks The World With A Surprise Reunion At Coachella After 6 Years
Furthermore, 2NE1 was not out of their element as the members set the stage on fire. The K-pop group slayed during their performance. Perhaps one specific member slayed too much during Coachella 2022 as fans noticed that Sandara Park was actually missing a shoe.
After rewatching 2NE1's Coachella 2022 performance, fans noticed that Sandara Park had danced so powerfully that, in the middle of 2NE1's performance, the K-pop idol did a hick kick which made her shoe fly off her foot.
another fancam of dara's shoes having its own coachella + dara holding her laughter at the end lmfao #DARA #2ne1atCOACHELLA #2NE1 #Coachella pic.twitter.com/PG4xo7nShR — ᴄ (@chinaamrqt) April 17, 2022
READ: K-Pop Artists Who Performed At Coachella Under 88rising's 'Head In The Clouds Forever' Lineup
2NE1's surprise performance was already stunning as it is, but Sandara's flying shoe was the highlight of the whole event. Although fans found it hilarious, it simply showed how passionate Sandara park was, wanting to give it her all to her fans during 2NE1's Coachella 2022 performance.
Some eagle-eyed Blackjacks noticed in a fancam that Sandara Park actually stopped herself from laughing after her shoe flew off. The K-pop idol even poked fun at the accident as Sandara herself tweeted pictures after 2NE1's Coachella 2022 performance which included a zoomed-in photo of her feet before she left the stage.
Hey Coachella~!!!
Who's the best? ️ pic.twitter.com/Plwbz4uwY8 — Sandara Park (@krungy21) April 17, 2022
After having a small accident, Sandara Park recovered gracefully, proving that she is a legend in the K-pop industry alongside the other 2NE1 members during their Coachella 2022 performance.
READ: Are You Ready Netizens? Sandara Park Confirms Her Highly-Anticipated Musical Comeback With DAZED!
Stay tuned for more news and updates regarding 2NE1's Sandara Park and other K-pop artists!
© 2023 Korea Portal, All rights reserved. Do not reproduce without permission.
Tags:
kwave
,
kwave news
,
kwave updates
,
Kpop
,
kpop news
,
Kpop updates
,
2NE1
,
2NE1 news
,
2NE1 updates
,
2NE1 Coachella
,
2NE1 Coachella 2022
,
2NE1 2022 Coachella
,
coachella
,
Coachella news
,
Coachella updates
,
Coachella 2NE1
,
2022 Coachella 2NE1
,
Coachella 2022 2NE1
,
2NE1 Sandara
,
2NE1 Sandara news
,
2NE1 Sandara updates
,
2NE1 Sandara Park
,
2NE1 Sandara Park news
,
2NE1 Sandara Park updates
,
sandara
,
Sandara news
,
Sandara updates
,
Sandara Park
,
Sandara park News
,
Sandara Park Updates