Vladimir Putin Officially Declares War On Ukraine, U.S. & Other Nations Impose More Sanctions On Russia!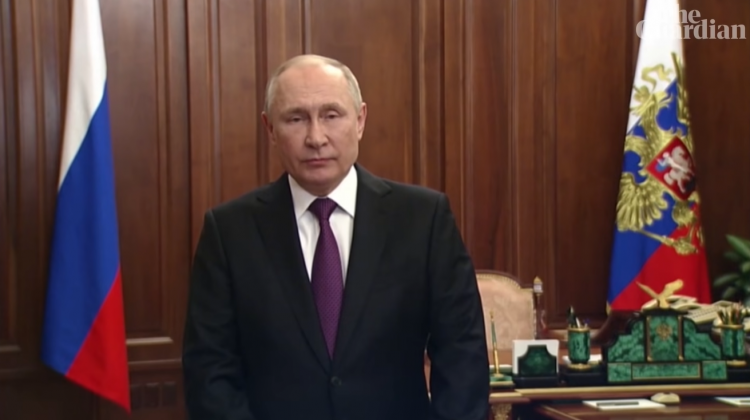 U.S. President Joe Biden recently condemned Russia's declaration of War on Ukraine, promising that the world will hold Russian President Vladimir Putin accountable for recent actions.
Specifically, President Joe Biden expressed, "President Putin has chosen a premeditated war that will bring a catastrophic loss of life and human suffering." The U.S. said he will address the nation soon to announce more steps the U.S. will take aside from imposing sanctions.
Prior to the recent direct attacks towards Ukraine, Russian president Vladimir Putin expressed in a televised address overnight that Russia will directly have military operations in eastern Ukraine.
READ: Analysts Believe That Putin Will Fully Invade Ukraine & Have Russia 'Regime Change'!
Vladimir Putin shared that his actions come to answer the threats coming from Ukraine, itself. The Russian president added that Russia does not have a goal to fully occupy the country. Valdimir Putin said that bloodshed solely lies with the Ukrainian 'regime'.
Furthermore, as Vladimir Putin spoke, explosions were heard in Ukraine's Kyiv, Kharkiv, and other areas. President Vladimir Putin warned other nations that any attempt to interfere with Russia's invasion will lead to consequences that have never been seen before.
President Vladimir Putin said the Russian military movement towards Ukraine is solely to ensure the nation's demilitarization. Putin said that all Ukrainian military men and women who put down arms will be allowed to safely leave the combat zone and return home to their families.
Adding to this, Volodymyr Zelenskyy, the president of Ukraine, declared martial law and urged Ukrainian citizens following Russia's attacks. Russia's deployment of its forces came as Ukraine geared up to have a 30-day state of emergency.
President Volodymyr Zelenskyy expressed that Ukraine is pursuing silence but shared that the nation has to act. "If we remain silent today, we will disappear tomorrow," the Ukrainian president exclaimed.
© 2023 Korea Portal, All rights reserved. Do not reproduce without permission.
Tags:
U.S.
,
U.S. news
,
U.S. updates
,
U.S. President
,
President Joe Biden
,
President Joe Biden news
,
President Joe Biden updates
,
President Vladimir Putin
,
President Vladimir Putin news
,
President Vladimir Putin updates
,
President Volodymyr Zelenskyy
,
President Volodymyr Zelenskyy news
,
President Volodymyr Zelenskyy updates
,
Ukraine
,
Ukraine news
,
Ukraine updates