BIGBANG's Taeyang And Actress Min Hyo Rin Welcome Their First Son!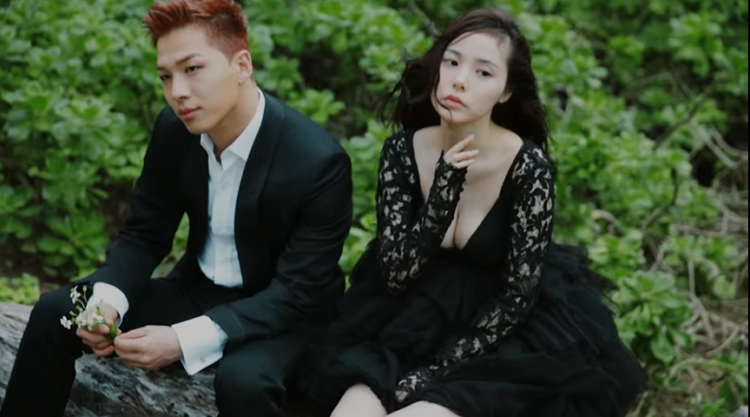 BIGBANG member Taeyang and actress Min Hyo Rin gave birth to a baby boy.
According to South Korean media sites, actress Min Hyo Rin, the wife of Taeyang, recently gave birth to a healthy son. With this, Taeyang became the first in his group to become a father.
Such news was confirmed by Taeyang's agency YG Entertainment, saying, "Taeyang's wife, Min Hyo Rin, recently gave birth to a healthy son."
Taeyang and Min Hyo Rin became parents after three years of marriage. As they are a top star couple and a representative couple in the entertainment industry, Taeyang and Min Hyo Rin are receiving overflowing congratulations and support for the birth of their first child.
The news that Taeyang and Min Hyo Rin will become parents was announced through an exclusive report on September 27th.
Afterward, Min Hyo Rin's agency Plum Entertainment said, "Min Hyo Rin is about to give birth. She is waiting for her child with a happy heart."
READ: BIGBANG's Taeyang And His Wife Min Hyo Rin Are Expecting A Baby!
Taeyang and Min Hyo Rin met while filming a music video in 2014, developed into lovers, and got married in February 2018. Currently, the two live in a luxury villa in Hannam-dong, Seoul.
Announcing the marriage, Taeyang said, "I made an oath to spend the rest of my life with Min Hyo-rin, who has always been by my side for the past four years."
Meanwhile, Min Hyo Rin made her debut as a model for a clothing brand in 2006 and received great love for her appearances in films such as "Sunny," "Gone with the Wind," and "Twenty." Min Hyo Rin also starred in dramas such as "Romantic Movement In Seoul" and "Persevere, Goo Hae Ra."
On the other hand, Taeyang debuted as a member of BIGBANG in 2006. The legendary K-Pop boy group celebrated its 15th anniversary this year. With the exception of Seungri, the Big Bang members: G-Dragon, Taeyang, Top, and Daesung, renewed their contracts with YG Entertainment last year.
READ: BIGBANG To Make Their Return? Fans Speculate On Daesung & T.O.P's Recent Updates
Congratulations to Taeyang and Min Hyo Rin!
© 2023 Korea Portal, All rights reserved. Do not reproduce without permission.
Tags:
Taeyang
,
Bigbang Taeyang
,
Big Bang Taeyang
,
Taeyang News
,
Taeyang Updates
,
Taeyang and Min Hyo Rin
,
Taeyang love life
,
Taeyang wife
,
Taeyang Min Hyo Rin
,
Taeyang Min Hyo Rin wedding
,
Taeyang Min Hyo Rin baby
,
Taeyang Min Hyo Rin baby boy
,
Taeyang and Min Hyo Rin baby boy
,
Taeyang And Min Hyo Rin Baby
,
Taeyang And Min Hyo Rin Baby
,
BIGBANG Taeyang And Min Hyo Rin baby
,
Kpop
,
kpop news
,
Kpop updates
,
Min Hyo Rin
,
Min Hyo Rin husband
,
Min Hyo Rin baby