UAENAs Cheer As IU Wins Big At The Melon Music Awards After 4-Year Absence!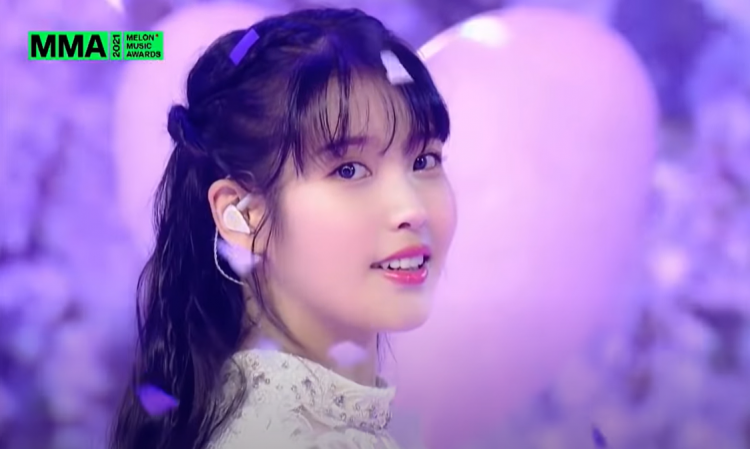 As of writing this article, yesterday on the 4th of December, the 2021 Melon Music Awards (aka the 2021 MMAs) occurred, and the Daesangs awards (aka Grand Prizes) were dubbed to IU, BTS, and aespa.
READ: The Melon Music Awards 2021: What Netizens & Fans Should Know About The Awards Show!
Notably, for soloist IU, this was her first appearance at the MAMAs in four years as she last appeared in 2017, where she won the awards Album of the Year, Best Songwriter, and Top 10 Artists (aka Bonsang).
At this year's MMA, IU added to her record as she took home a total of five awards; Album of the Year, Best Songwriter, and the Top 10 Bonsang again, but also Album of the Year and Best Solo (Female Category).
To make fans even more proud, two of the awards were Daesangs which were Album of the Year and Artist of the Year.
READ: After 4 Years Of Absence, IU Slated To Perform At '2021 Melon Music Awards'!
As she received her award for Artist of the year, IU expressed her gratitude by sharing that the award contains a lot of weight. A lot of artists worked hard and did their best this year, but she was able to garner it, so she felt gratitude towards the other artists. IU explained that she would carry the weight of this award and channel it into working hard at making music in 2020.
"We're in a situation where we can allow small audiences again. If we wait a little longer, the day will come when we can shout, 'Make some noise,' and we can scream and cheer, and tell people face-to-face, 'You're beautiful.'" Next year, I want to meet more people from a closer distance. Because Uaena [fan club name] was here today, I was able to feel like I really got an award. Uaenas, I got five trophies, are you proud? I'm glad that I can make Uaenas' shoulders stand proud. I hope that the day will soon come when we can enjoy this with all the K-pop fans. I love you," IU further added.
For her Album of the Year speech, IU noted, "This is such a big award. This year, more than ever, I felt hungry for music and consumed it as a listener. I feel good about receiving this award. My music career can be short if you look at it one way or long if you look at it another, but I've never taken a break from releasing music once from age 20 to age 30."
For IU, there were years when she wanted to take a break, but she spent 10 years getting close to the fans who love her music through her songs, so she believes she did well. This is really an award she wanted to win, and next year, she will work hard on music in her 30s.
"Uaena, I love you," IU expressed lovingly towards her fans.
IU now has a total of 8 Bonsang wins which is the highest amount for a Korean artist!
© 2023 Korea Portal, All rights reserved. Do not reproduce without permission.
Tags:
kwave
,
kwave news
,
kwave updates
,
Kpop
,
kpop news
,
Kpop updates
,
EDAM
,
EDAM artists
,
EDAM IU
,
Edam Entertainment
,
Edam Entertainment artists
,
Edam Entertainment IU
,
IU
,
IU news
,
IU Updates
,
2021 Melon Music Awards
,
2021 Melon Music Awards news
,
2021 Melon Music Awards updates
,
IU 2021 Melon Music Awards
,
2021 Melon Music Awards IU
,
Melon Music Awards
,
Melon Music Awards news
,
Melon Music Awards updates
,
IU Melon Music Awards
,
Melon Music Awards IU
,
2021 MMA
,
2021 MMA news
,
2021 MMA updates
,
IU 2021 MMA
,
2021 MMA IU
,
MMA
,
MMA news
,
MMA updates
,
IU MMA
,
MMA IU
,
Daesangs awards
,
IU Daesangs awards
,
Daesangs awards IU
,
Bonsang wins
,
IU Bonsang wins
,
Bonsang wins IU