Noh Hee Kyung's New Drama 'Our Blues' Impresses With Its Star-Studded Lineup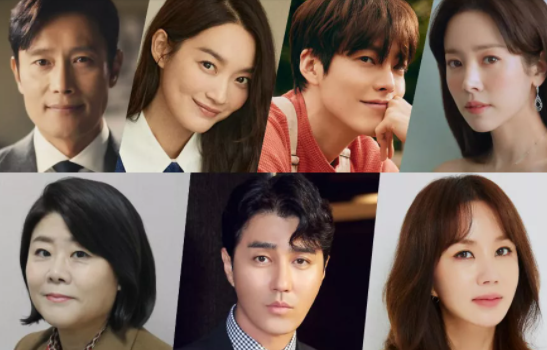 Noh Hee Kyung's new Korean drama, "Our Blues", impresses us with its star-studded cast. The critically acclaimed writer has revealed that "Our Blues" will cast stars such as Lee Byung Hun, Shin Min Ah, Kim Woo Bin, Han JI Min, Lee Jung Eun, Cha Seung Wong, and Uhm Jung Hwa. These are no longer rumors but have been confirmed. All of these Korean stars are world-class and fans cannot wait for the show to be released.
This is the first time that these stars have agreed to play in one drama. Due to Noh Hee Kyung's amazing concept regarding "Our Blues", Korean A-listers did not hesitate to immediately get on board with the new drama.
Fans are especially excited to see Shin Min Ah playing in another drama. Currently, she is the star of the very famous Korean drama, "Hometown Cha-Cha-Cha".
Noh Hee Kyung's "Our Blue" is a story about love, life, and second chances. All the characters in the show are somehow connected to one another as the setting happens on the small island of Jeju. The synopsis has been revealed and it is a very different concept to that of the usual Korean dramas with one storyline. "Our Blues" mixes separate plots into one story timeline.
Take for example; Shin Min Ah's character in the show will be Min Sun Ah, who arrives in Jeju Island running away from the big city. She then meets Lee Byung Hun's character, Lee Dong Suk who is a local on the island and sells trucks for a living.
For Han Ji Min, she will play Lee Young Ok who is a diver with a very positive attitude towards everything. Kim Woo Bin will play a captain of a boat in "Our Blues", Park Jung Joon and who will fall in love with Lee Young Ok.
There is also Lee Jung Eun, Choi Han Soo, and Uhm Jung Hwa's plot, where it tackles all about lost love and rekindling of this said lost love.
The release date of Noh Hee Kyung's "Our Blue" is set to be in the later season of 2022. Currently, no announcement as to whether the show is already on production has come out yet.
© 2023 Korea Portal, All rights reserved. Do not reproduce without permission.