Meghan Markle And Prince Harry Trouble In Paradise: Couple's Body Language Shows Rift Between Two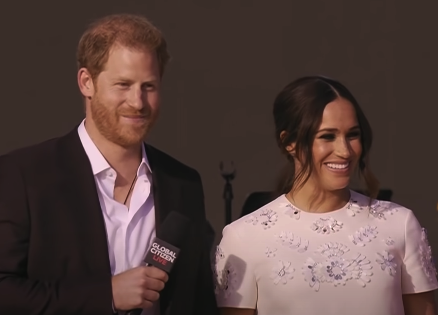 Meghan Markle and Prince Harry's recent visit to New York City has everyone chattering about the couple's relationship. The two who were wed last 2018 had everything, they were very much in love with one another, and in a whirlwind romance type of way, they immediately announced their engagement to the world, not even a year since they dated officially.
Now, royal experts are speculating that Meghan Markle and Prince Harry are not the same anymore. It may seem like their relationship is not as close as before, claimed by these experts.
A body language expert, Judi James reveals that Meghan Markle and Prince Harry's intimate relationship with one another is clearly breaking down. He observed during the televised Global Citizen Live event that Prince Harry's nice gestures towards his wife were not returned by Meghan Markle.
"There was a new air of solo power and influence about Meghan's body language during her 'adventure' in New York. The shy-looking young bride clinging to her husband's arm in the UK had gone and in her place were signals of resilience, determination and confidence," Judi James commented.
Furthermore, James commented on how Meghan's attire was much powerful and confident compared to that of her husband. He then pointed out that Meghan Markle is walking ahead of Prince Harry in most parts of their visit to New York City. Although, the expert believes that this is all part of a show.
Judi James then commented on the couple's public display of affection. He said that there are still hints of Prince Harry and Meghan Markle we all know.
"The couple's PDAs were still a feature of this 'adventure' but they were less constant than when they were doing royal tours," James shared comparing their past events as royals and now as private citizens.
This is the first time the couple has visited New York City on official matters, fans of both Meghan Markle and Prince Harry are looking forward to seeing them at more events.
© 2023 Korea Portal, All rights reserved. Do not reproduce without permission.