BTS Staff Member Under Fire! Spotted Opening Hate Sites While BTS On V Live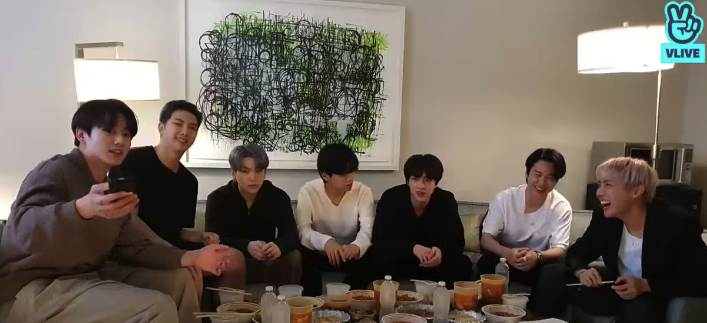 BTS fans have reason to believe that one of the staff members of the group was spending time looking at the hate sites of the group during a live show.
BTS who recently appeared on V LIVE to spend time with their fans despite being on a business trip in New York City was chatting away when fans spotted on the corner of the screen, a phone screen. It is believed that this phone screen was on a BTS hate site and was being looked at by a staff member of the boy group.
The main reason for BTS going on V LIVE was to celebrate the Chuseok holiday and to greet their fans all around the world. There were some technical difficulties but the group powered through on.
During the replay of the uploaded V LIVE broadcast, hawk-eyed fans were quick to notice a phone on the bottom right corner. Many citizens speculated that the staff member was browsing through hate sited of BTS. Netizens are sure though that the Big Hit staff was just monitoring the community for any hate being posted of the group.
But not all of the netizens were understanding, as some believe that the staff was leaking BTS schedule online.
"So there was a staff member who was seen visiting various online communities such as DC gallery and Theqoo. V LIVE deleted the video and uploaded a blurred version, so they know," one netizen commented.
One even commented on how it is probably that the staff members of BTS are the ones leaking photos of the members online. Although, these are unlikely fan theories are still taken seriously.
Currently, BTS is in New York City for work purposes. Over the week, the group was invited to the United Nations Global Assembly as the Special Presidential Envoy of South Korean President Moon Jae-In.
© 2023 Korea Portal, All rights reserved. Do not reproduce without permission.