Netizens & ReVeluvs Divided As ELLE Korea Excludes Irene From Red Velvet Promotions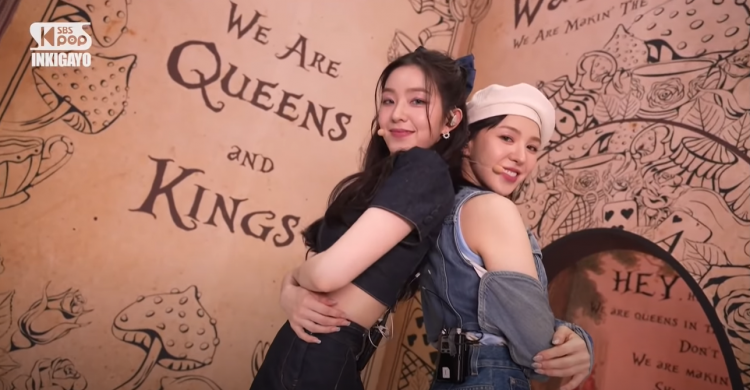 In an Instagram post that was uploaded yesterday, ELLE Korea, a popular South Korean fashion magazine, has gone on to promote Red Velvet's "Queendom," the K-pop girl group's most recent comeback.
ELLE Korea did this via an interview with Red Velvet's make-up artist and hairstylist.
Notably, though, the initial post did not contain Red Velvet's Irene in their promotion. This made ReVeluvs (the fandom name of Red Velvet) and netizens torn as all other members of Red Velvet were included except for Irene.
ELLE Korea also did not include Irene's Instagram tag, @renebaebae. A group photo from Red Velvet's Official Instagram account was the only photo that included Irene.
ReVeluvs showed their distaste for ELLE Korea's choice for not adding Irene. Following this, ELLE Korea decidedly deleted the original post and re-uploaded a new one that included an individual photo of Irene alongside her proper tag.
ELLE Korea's new caption is as follows:
"#ELLEViewFinder Red Velvet is back with a new song, 'Queendom!' Curious about their hair and make-up in the music video? ELLE Korea interviewed Soonsoo Salon's director Shin Kyung Mi, who was in charge of the make-up styling, as well as manager Yoon Seo Ha who was in charge of the hairstyling. Check out the tips and behind-the-scenes stories about the looks in Red Velvet's MV on elle.co.kr.
Photo @_imyour_joy @renebaebae @yerimiese @hi_sseulgi @todayis_wendy @redvelvet.smtown
Digital Editor Song Ye In"
Netizens have since been divided on the matter.
Other's believe that Red Velvet's Irene, due to her controversy in October 2020, 'deserved' not to be included in the promotions.
While some noted that ELLE Korea was being unprofessional. Notably, some have said that if this was not accidental and in fact intentional, ELLE Korea is being unprofessional and childish.
As of writing this article, ELLE Korea has not yet released a statement on the matter.
© 2023 Korea Portal, All rights reserved. Do not reproduce without permission.
Tags:
kwave
,
kwave news
,
kwave updates
,
Kpop
,
kpop news
,
Kpop updates
,
SM
,
SM artists
,
SM Entertainment
,
SM Entertainment artists
,
SM Entertainment news
,
SM Entertainment updates
,
SM Entertainment Red Velvet
,
SM Entertainment Red Velvet comeback
,
SM Entertainment Red Velvet Irene
,
SM Entertainment Red Velvet ELLE Korea
,
ELLE Korea SM Entertainment Red Velvet
,
Red Velvet
,
Red Velvet News
,
Red Velvet Updates
,
Red Velvet Irene
,
Red Velvet Irene news
,
Red Velvet Irene updates
,
Red Velvet Irene ELLE Korea
,
ELLE Korea Red Velvet Irene
,
ELLE Korea Irene
,
Irene ELLE Korea
,
Irene
,
Irene news
,
Irene updates