Red Velvet's Joy Spills The Tea On Her Iconic Photo At The MAMAs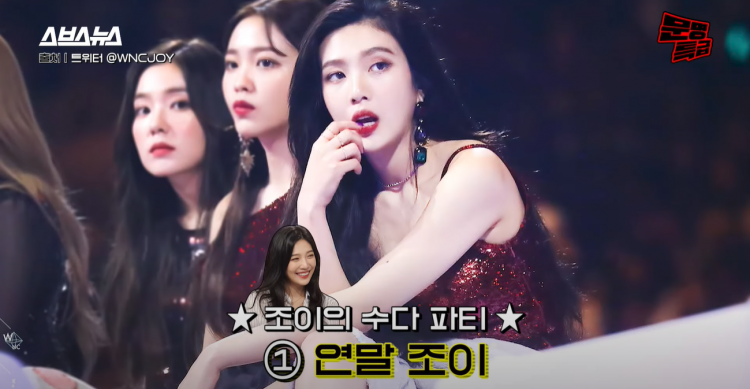 The members of SM Entertainment's Red Velvet are known for their duality as their main concept. Beyond this, Irene, Wendy, Seulgi, Joy, and Yeri, are also popular for their double V. The double V being their vocals and their visuals.
Throughout the years of being active, the members of Red Velvet have taken a plethora of 'legendary' photos that flex their visuals. Recently in a featured interview, Red Velvet's Joy talks about her most iconic photo which was taken during the MAMAs a while back.
Red Velvet's Joy recently shared an interesting story regarding her 'legendary' photo during the MAMAs. She shared this on the 12th of August as the Red Velvet members were featured in a video on MMTG's official YouTube channel.
The clip had Jaejae, the host, sharing a photo of Red Velvet's Joy which was taken in the past. The photo is now iconic due to the fact that Red Velvet's Joy received a lot of attention for her drop-dead visuals.
Red Velvet's Joy's photograph was taken in the yearly music festival "Mnet Asian Music Awards" or also known as MAMA. At the festival, Red Velvet's Joy was rocking a sleeveless red glittery dress.
The photo was dubbed as legendary as Red Velvet's Joy was flawlessly ethereal as she had her fingers on her lower teeth while gazing into the crowd. She was truly overflowing with charisma.
After seeing her legendary photo, Red Velvet's Joy expressed joy as she laughed. The Red Velvet member explained, "There is a story behind this photo, actually. I had my fingers like that because of my braces."
"I had braces then. The wire of my braces came off on that day. But as I was abroad, I could not go to the dentist," Red Velvet's Joy recalled.
As per Joy, prior to the festival, the staff cut some of her braces off with cutters. The part where the wire had been snapped was bothering her a lot on that day as well.
"So, I kept on touching that part during the festival, and one of my fans happened to take a photo of me when I was doing that," Red Velvet's Joy admitted.
No matter the reason, Red Velvet's Joy was truly stunning with her legendary photo.
© 2023 Korea Portal, All rights reserved. Do not reproduce without permission.
Tags:
kwave
,
kwave news
,
kwave updates
,
Kpop
,
kpop news
,
Kpop updates
,
MMTG
,
MMTG news
,
MMTG updates
,
MMTG JaeJae
,
JaeJae
,
MMTG Red Velvet
,
Red Velvet MMTG
,
Mnet Asian Music Awards
,
Mnet Asian Music Awards Red Velvet
,
Red Velvet Mnet Asian Music Awards
,
Red Velvet Joy Mnet Asian Music Awards
,
Mnet Asian Music Awards Red Velvet Joy
,
MAMA Red Velvet Joy
,
Red Velvet Joy MAMA
,
SM
,
SM artists
,
SM Entertainment
,
SM Entertainment artists
,
SM Entertainment Red Velvet
,
SM Entertainment Red Velvet Joy
,
Red Velvet
,
Red Velvet News
,
Red Velvet Updates
,
Red Velvet Joy
,
Red Velvet Joy news
,
Red Velvet Joy updates
,
Red Velvet Joy legendary photo
,
Red Velvet Joy visuals
,
Red Velvet Joy legendary MAMA photo
,
Joy
,
Joy news
,
Joy updates
,
SMTOWN
,
SM Town]