Did Ed Sheeran Write A Song For BTS? Here's What Big Hit Has To Say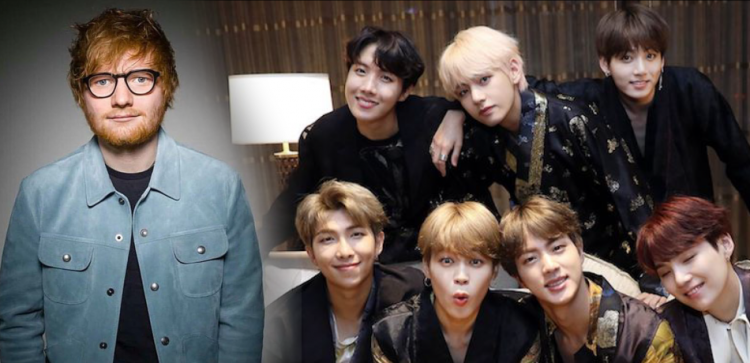 Rumors have circulated that Ed Sheeran is working on a song for the superstar K-Pop group BTS. Now, BTS' agency Big Hit gave their side of the story. Read through the article to find out.
A collaboration between BTS and the English singer and songwriter Ed Sheeran would be a dream come true. And with the revelations today, fans might just have to wait a little while to be able to listen to such a masterpiece.
In an official statement to Newsen, Big Hit confirmed that the English singer-producer is brewing something for BTS. "It is true that Ed Sheeran is participating in BTS' new song," Big Hit Entertainment revealed in their June 27 statement.
Aside from the statement, Big Hit did not reveal any details regarding the project. Due to this, it is still unclear whether the Ed Sheeran and BTS collaboration song will be included in the latter's upcoming single album. Previously, it was announced that BTS will be dropping their single album "Butter" on July 9.
According to reports, BTS' upcoming single album will include their Billboard 100 number 1 hit and record-breaking single "Butter" as well as a new song. Such a new track is described as a song that will make hearts beat to the rhythm of BTS's positive energy.
However, there is the possibility that the upcoming single album will not include the song Ed Sheeran made for BTS. "It is difficult to confirm the specific," Big Hit announced.
On the other hand, Ed Sheeran himself revealed in a radio interview that he worked on a new song for BTS. "I've actually worked with BTS on their last record, and I've just written a song for their new record. They are like super, super cool guys!" Ed Sheeran shared with Most Requested Live.
When do we expect an Ed Sheeran and BTS collaboration? Stay tuned for more updates!
© 2023 Korea Portal, All rights reserved. Do not reproduce without permission.