Community Pantries Are Appearing All Over the Philippines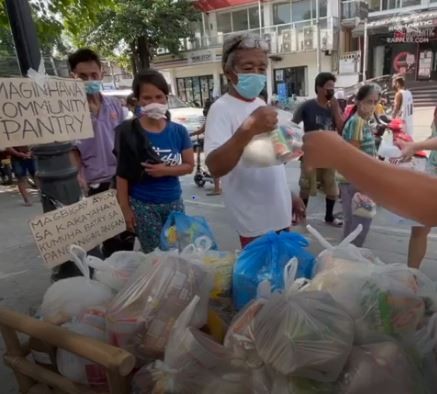 In the midst of the COVID-19 pandemic, several community pantries are appearing all over the Philippines, ready to provide to the needy.
It is a difficult time for everyone in the world, especially those who have a hard time bringing food to the table. It's natural for Filipinos to give to the needy even if they have little to spare for themselves. "Bayanihan" or "Cooperative Undertaking" will always remain in their blood.
The first community pantry started in Maginhawa St. in Quezon City, Manila. Soon, a dozen more communities from all over the nation started to open theirs. Since there are also Muslim residents everywhere, donated goods in the community pantries also include Halal products.
Donated goods include basic commodities such as rice, vegetables, noodles, and canned goods. This act of kindness is even more contagious than the COVID-19 virus itself and provides benefits rather than harm.
Organizers who establish their own community pantries never forget to put up the sign, "Magbigay Ayon sa Kakayahan, Kumuha Batay sa Pangangailangan (Give What You Can, Take What You Need)." This project is for the needy as every area faces a surge in COVID-19 cases. Most people can't get back to their jobs, while others can't get jobs.
People around the world can start opening their own pantries in their area to help those in need and have no means to buy food. These helpful tips can spread the love and not the virus.
Require the cooperation of each family member, friends, and the entire neighborhood.
Search for people in your area who are willing and able to help.
List the things that most people eat and buy such as eggs, rice, vegetables, fruits, canned goods, biscuits, medicines, face masks, alcohol, sanitizers, etc.
Encourage other people to donate in kind.
Sort the goods by putting them in crates, boxes, pails, or any clean containers to make it easier for people to get what they need.
Don't forget to remind people going to your pantry to wear a face mask and observe social distancing.
© 2023 Korea Portal, All rights reserved. Do not reproduce without permission.