Dogs Rescued From South Korean Meat Farm Are Still Suffering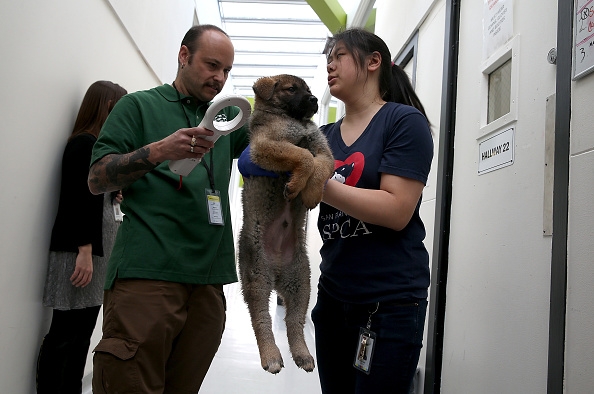 The Humane Society rescued 103 dogs from a meat farm in Chungcheongnam-do, South Korea and were brought to shelters in California and Washington, according to the publication SF Gate.
Many of these dogs have been adopted, but a handful remain under the care of shelters in order to receive more training in order to overcome "shy and fearful behaviors" left from how they were treated while in captivity, according to the LA Times.
"While these dogs have shown some behavioral improvement, they're not yet entirely comfortable being handled or walking on a leash," said Gary Weitzman, CEO of the San Diego Humane Society.
"They're still learning what it means to be a family member."
29 of the 103 dogs reportedly arrived in the shelter in San Diego in mid-September. 10 are Jindo-mixes.
Although 19 of these dogs have been adopted, 10 are due to have more extended training. Families interested in adopting one of the 10 will be offered "shy dog" training classes and follow-up help from Humane Society trainers, according to Weitzman.
The South Korean government is reportedly planning on ending the dog meat trade before hosting the 2018 Olympics. The industry is dying out, mainly because younger people frown upon the trade.
"The younger generation has no interest in consuming dog meat. They are embarrassed by it, and by the cruelty inherent in the industry," explained Adam Parascandola, HSI director of animal protection and crisis response.
Many dog farmers are reportedly eager to change their crop, and Humane Society International is helping make this transition. The organization reportedly paid a South Korean farmer to transition to other crops.
The cages the dogs were kept were reportedly destroyed in the process.
The Humane Society reportedly spent about $150,000 on the most recent rescue effort, with $60,000 of that in transport costs.
More work and care continues to be poured into the dogs that are waiting to be adopted.
"Every one of them is absolutely worth the effort," Weitzman said.
© 2023 Korea Portal, All rights reserved. Do not reproduce without permission.