McDonald's Philippines Introduces 'Taste Of Korea' Menu For A Limited Time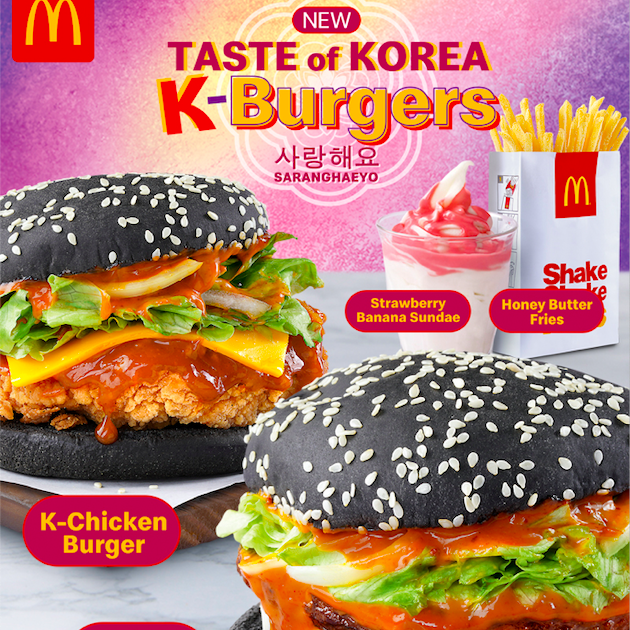 The Philippines are huge fans of K-Pop and Korean culture. So, it's no surprise the popular international fast-food franchises would ride along the growing K-Wave.
McDonald's announced this week their limited-time "Taste of Korea" menu featuring two Korean-inspired burgers, Strawberry Banana Sundae and Honey Butter Fries. These are available for dine-in, take-out, and delivery in all McDonald's branches in the Philippines. Note that availability may depend on the branch.
Both the K-Beef and K-Chicken burgers would come in a black bun with sesame seeds. The K-Beef burger's patty is dipped in gochujang sauce, kimchi dressing, lettuce, onions, and egg. The K-Chicken burger is similar to the usual things found in a Crispy Chicken sandwich but dipped in gochujang sauce, kimchi dressing, and cheddar cheese.
McDonald's is also known for its delicious fries. Their Shake Shake fries are one of their limited-edition food items that are sought after by customers. The menu comes with the original McDonald's fries and a powder where you can pour in the paper bag filled with fries and shake them. The Honey Butter fries' packaging is kind of similar to the Shake Shake fries but with a delicious Honey Butter flavor that reminds you of the popular Korean snack. The strawberry banana sundae is a different twist of McDo's usual sundae but this time a unique mix of strawberry and banana flavor.
Many netizens have tried the "Taste of Korea" menu, and it had some mixed opinions that are mainly on the positive. Some commented that the burger needed more spice, as Korean food is notable for being more on spiciness. Others thought that the taste is okay, and they are definitely looking forward to what McDonald's has more in store for its customers in the Philippines. All the items on this limited menu can now be bought dine-in, pick-up, and delivered.
© 2021 Korea Portal, All rights reserved. Do not reproduce without permission.