Robo-Plants: Incredible Fusion of Nature and Technology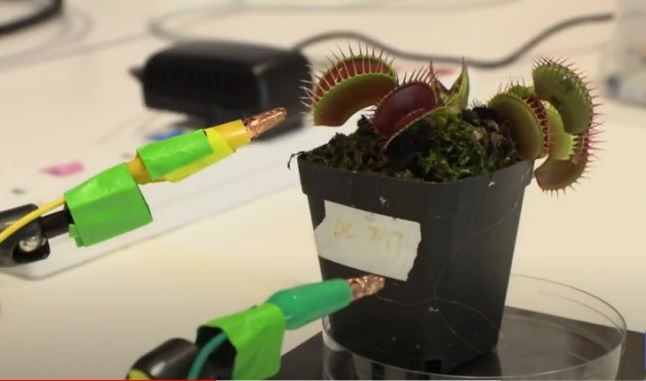 Using a high-tech system to communicate with plants allow farmers to determine if their crops are damaged by diseases.
Singapore researchers connected plants to electrodes creating Robo-plants, which can track the weak electrical pulse that the plant discharged spontaneously. They used the technology to provoke a Venus flytrap to close its jaw after pushing a button from a smartphone app.
Scientists, afterward, attached one of the plant's jaw to a robotic arm. It gave the plant the ability to hoist a piece of wire that is .5 mm thick and grasp a small plunging object. The technology itself is still in its early stages. However, researchers acknowledge that it can be utilized to develop state-of-the-art "plant-based robots." Eventually, these Robo-plants can hoist a score of fragile stuff, too brittle for stiffened, robotic arms.
Plants diffuse poor electric signals, and irregular and waxy surfaces make it challenging to secure sensors efficiently. Scientists developed film-like, soft electrodes that can fit snugly to the plant's surface. This makes the plant gather signals more precisely. A "thermogel" was attached to the Robo-plants, which is a liquid at cold temperature but turns into a gel at room temperature.
Moreover, the system can likewise gather signals that plants release. This increases the potential that farmers will be able to identify issues with their harvest earlier, even before they become worse.
Nanyang Technological University research lead author Chen Xiaodong noted, "These kinds of nature robots can be interfaced with other artificial robots [to make] hybrid systems. By monitoring the plants' electrical signals, we may be able to detect possible distress signals and abnormalities. Farmers may find out when a disease is in progress, even before full-blown symptoms appear on the crops."
Farmers believe that utilizing this kind of technology can be useful to counter the negative effects of climate change on crops and produce. However, scientists are faced with more challenges, such as reopening the jaws of the Venus flytrap, which usually takes 10 hours or more to naturally open.
© 2021 Korea Portal, All rights reserved. Do not reproduce without permission.