Filipino Consumers Panic Buys In Groceries As Country Logs All-Time High COVID-19 Cases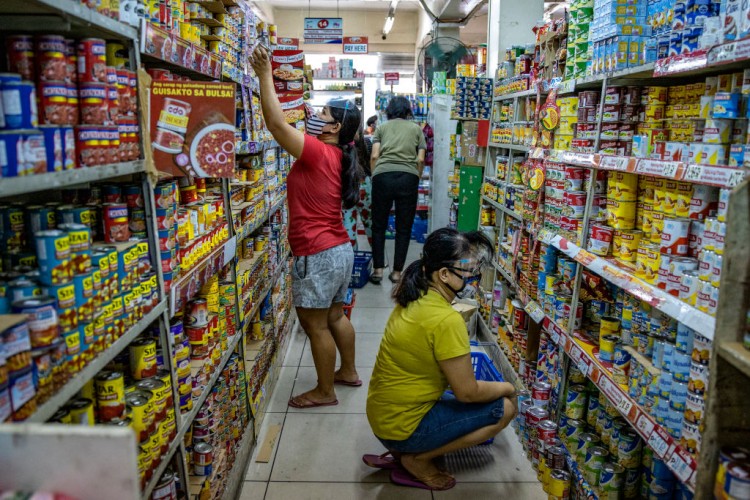 The Philippines is once again in a strict lockdown after all-time COVID-19 cases were logged in consecutive days. Consumers in the country thus resorted to panic buying in groceries before the lockdown was imposed beginning March 29th.
Philippines capital, Manila, and the nearby areas of Cavite, Laguna, Rizal, and Bulacan, where 25 million Filipinos are declared to be under "enhanced community quarantine" or "ECQ" from March 29th up to April 4th.
Except for individuals offering essential services, everyone in the country, especially in those places under ECQ, is instructed to stay at home and avoid entertaining visitors, even relatives.
Security forces are delegated to checkpoints to monitor travels or movement, including those of food and other vital goods.
Under the restrictions, only groceries, pharmacies, and hardware stores, and the like in shopping malls are open. All other brick-and-mortar stores will be closed. Restaurants are only limited to deliveries and takeouts.
The government has imposed a curfew from 6 p.m. to 5 a.m. in Manila and the four provinces.
Yesterday, the Philippines recorded the highest number of COVID-19 cases since the beginning, at 10,016 cases. Around the globe, there are now over 127 million confirmed cases, over two million deaths, and over 72 million recoveries.
This is the second wave of the strict lockdown since COVID-19 started. Due to this, many Filipino consumers had resorted to panic buying, filling in grocery stores over the weekend before the lockdown was imposed.
Authorities advised consumers not to panic buy or hoard goods since there will be a sufficient supply of grocery items and essentials in the stores. The situation in the coming weeks remains bleak, as the restrictions will depend on the COVID-19 situation in the Southeast Asian country.
Vaccinations are continuous in the Philippines, with the government receiving yet another batch of COVID-19 vaccines over the last few days.
© 2022 Korea Portal, All rights reserved. Do not reproduce without permission.