Girl's Day Hyeri Throws Surprise For Best Friend, BLACKPINK Rosé To Celebrate Her Solo Album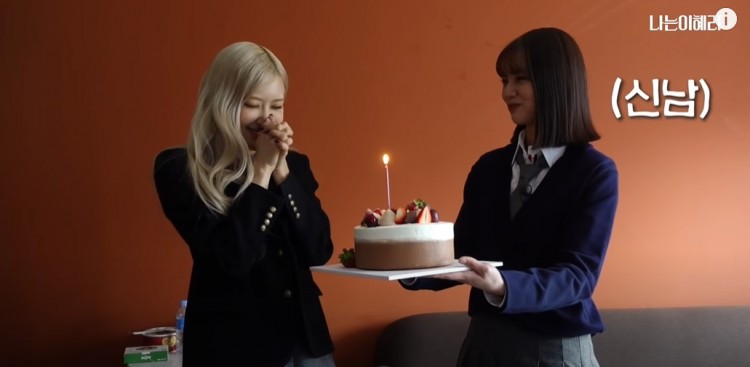 Girl's Day Hyeri threw a surprise for her best friend, BLACKPINK Rosé to congratulate her on the success of her solo album. The gift: a cake.
"What's this? When did you prepare this! This looks delicious!" Rosé said in the vlog of the behind-the-scenes of Hyeri and the BLACKPINK singer on "Knowing Brothers," with the successful solo artist even waving delightfully at the camera upon seeing the surprise.
Then, the two enjoyed eating the cake, plus a box of pizza.
It could be remembered that BLACKPINK Rosé also sent Girl's Day Hyeri with a Christmas gift last year, a truck of snacks.
"My lovely Chaeyoung [Rosé's birth name]. A surprise gift on Christmas Eve... Thanks to you, I remembered it was Christmas. I'm so touched. I love you Park Rosé," said Hyeri, thanking her best friend.
In other news about BLACKPINK Rosé, she is also fond of giving Yves Saint Laurent products to her staff. Over the week, the singer has been re-sharing the gratitudes of her staff members on Instagram after they get handwritten letters, flowers, and the branded items from the artist.
One of the staff who is able to receive said, "Our Chaeyoung is a total sweetie! She prepared these gifts for every single one of us. I am so touched."
BLACKPINK Rosé is also set to appear on "The Kelly Clarkson Show," becoming the first K-Pop soloist to guest on the show.
"The Kelly Clarkson Show" has guested other well-known celebrities including Dua Lipa, Christina Aguilera, Nick Jonas, John Legend, and so much more. It is a daytime variety talk show on NBC, hosted by three-time Grammy award winner and "American Idol" Kelly Clarkson.
Rosé will grace the March 29th episode of "The Kelly Clarkson Show," with the two expected to talk about her solo debut and first singer in her album "R."
© 2023 Korea Portal, All rights reserved. Do not reproduce without permission.