Myanmar Coup Records Its Youngest Casualty After a 7 Year-old Girl Shot Dead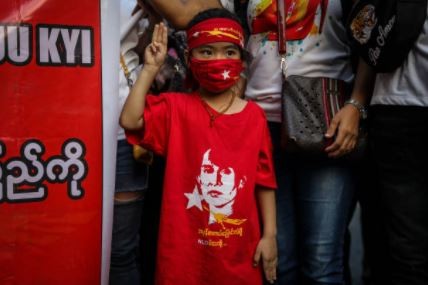 Anti-coup groups were enraged following the death of a 7-year-old girl that was accordingly killed by Myanmar's security forces in Malanday. The child was the youngest victim in the bloody crackdown on civilian opposition by the military.
The child was killed inside their house during a military raid, said Assistance Association for Political prisoners (AAPP).
According to reports, Khin Myo Chit, 7, was shot dead by security forces while in her father's lap.
In an account from the victim's older sister, she said that the forces kicked down the door of the family's home. Soldiers had accordingly asked the father of the child if the family's complete in the house, and when the father confirmed yes, the soldiers said that he's lying and aimed a shot at him but hitting the child instead.
The killing fits the pattern of indiscriminate abuse and use of violence from Myanmar's soldiers who are targeting unarmed protesters, enemies of the coup, and also the bystanders, civilians and children.
Myanmar had been in havoc since the military, headed by Gen. Min Aung Hlaing, snatched the government's power on February 1 by convicting pro-democracy leaders Aun San Suu Kyi and her allies by overturning the democratic election and starting a military junta.
Since then, nationwide protests against the coup and military abuse of power had been conducted by Myanmar citizens, and an increasing number of killings, violence, disappearances, and torture of political prisoners had been reported.
However, despite the threats, thousands of people still continue to strike and call for civil disobedience across the country, calling for the release of their leaders and the return of their democracy.
Protesters called for a "silent strike" on Wednesday, setting businesses and shops to close, and called for people to stay at home, aiming to shut down the country's towns and cities.
According to the AAPP, there had been around 275 people killed since the beginning of the coup, though it could be higher since there are still people who disappeared and unaccounted for. Moreover, there could be more than 20 deaths of children, says Save the Children, a humanitarian organization.
© 2022 Korea Portal, All rights reserved. Do not reproduce without permission.