#FREETWICE Is Now Trending On Twitter, Here's Why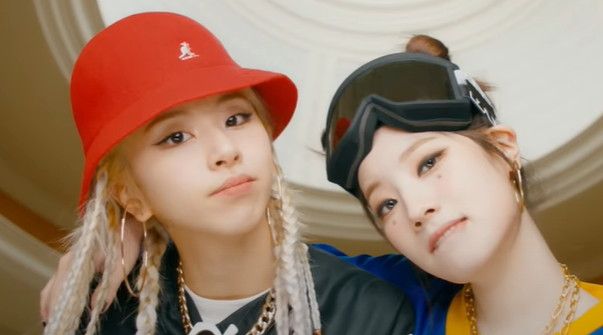 Last February 10, two-third of TWICE's maknae line-up, Dahyun and Chaeyoung, also known as DUBCHAENG, released their new melody project: a cover of "Switch to Me" by Rain and J.Y. Park.
The music video garnered three million views within hours of uploading. TWICE's rappers did an amazing job showing their prowess in not only rapping but also in singing and dancing. But aside from noticing the girls' moves, vocals, and visuals, viewers saw a similar article of clothing, which sparked an outrage.
It was pointed out that Dahyun's outfit in a still of the MV was very similar to BLACKPINK's Jisoo in the "How You Like That" music video. The moment the controversy was viral, JYP Entertainment, the company that is in contract with TWICE, swiftly issued a public apology.
JYP Entertainment's apology declared:
"Hello. This is JYP Entertainment.
With regards to the outfit seen in Dahyun and Chaeyoung's Melody Project video, this hanbok piece was purchased through a hanbok distributor; nonetheless, we were not able to properly recognize its similarity to others' work.
We would like to sincerely apologize for this mistake."
The mess started when BLACKPINK's visual director and designer, Kim Balko, posted a story on Instagram with the caption: "Ehhng??!! My custom design work is in a video that I didn't participate in??!!"
Kim Balko is famous for her modern costume designs. Particularly her custom-made hanboks.
But even though JYP Entertainment released an apology, netizens, both Korean and international, were not satisfied at all. Korean netizens gathered at a virtual community and shared their thoughts, such as finding this issue as an embarrassment.
With that, other fans outside of South Korea participated as well with their opinions as they posted on Twitter. Along with their posted opinions came the trending hashtag: #FREETWICE, which immediately went viral all over the world.
JYP Entertainment has been rumored to be careless to some of their groups. Aside from TWICE, more recently, GOT7, who decided to leave JYP, was at the forefront of this rumor.
© 2022 Korea Portal, All rights reserved. Do not reproduce without permission.