Coffee, Anyone? Tyra Banks Teases New Offerings In Her Business, SMiZE Cream's Menu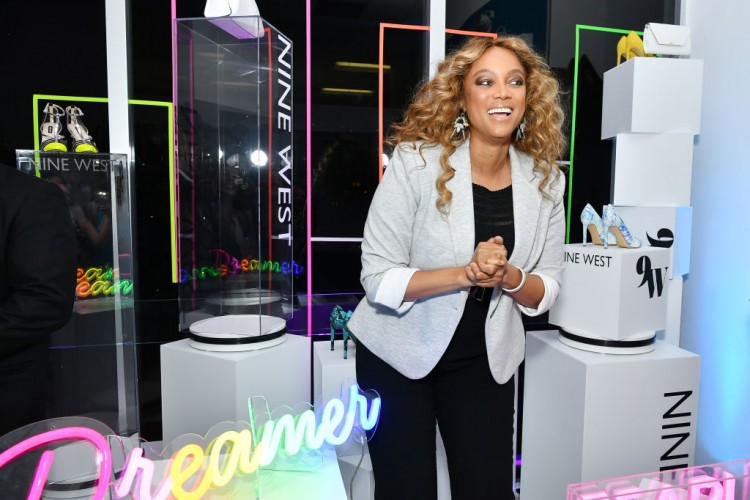 There is no official information yet about the new season of the popular dancing reality series "Dancing With The Stars," where supermodel Tyra Banks hosts while flaunting her glamorous outfits, so she is up to new ventures recently.
If not hosting, this 47-year-old celebrity is dealing with her businesses. One of these is an ice cream store, SMIZE Cream.
SMIZE Cream has developed quite a lot since it began, hiring new people, promoting its offerings, finding new opportunities about its ice cream flavors, and adding new offerings on their menu. Tyra Banks has seemed to tease a new addition lately.
In one of her recent Instagram posts at the start of this week, she shared a photo of her drinking coffee in a coffee shop with her hair styled in wild mane with curly locks, blonde highlights, and more, plus a colorful floral shirt over a black-colored t-shirt.
She wrote, "Happy Monday y'all from me and my many cups of coffee. Remembering when we could casually hangout at a coffee shop with this throwback. Those were the days. Today I'm working away at plans for my biz @smizecream."
Are they working on coffee-flavored ice cream? Tyra Banks clarified in her post that they are not working on coffee-flavored ice cream yet, but they will sure introduce a menu offering for coffee lovers. She also asked followers what kind of coffee they would like, whether this is a cappuccino, espresso, or drip.
She herself is the brand ambassador, endorser, and model of her ice cream store. She has been posting photos on the store's Instagram account with her wearing one-piece swimsuits in artwork, headshot glams, Instagram clips, and a whole lot more. There are even artworks of her face amid ice cream scoops.
Tyra Banks is the co-founder of SMIZE Cream alongside disc jockey Splitz.
© 2023 Korea Portal, All rights reserved. Do not reproduce without permission.