K-Pop Groups In Most Streamed K-Pop Songs On Spotify List, Find Out Who They Are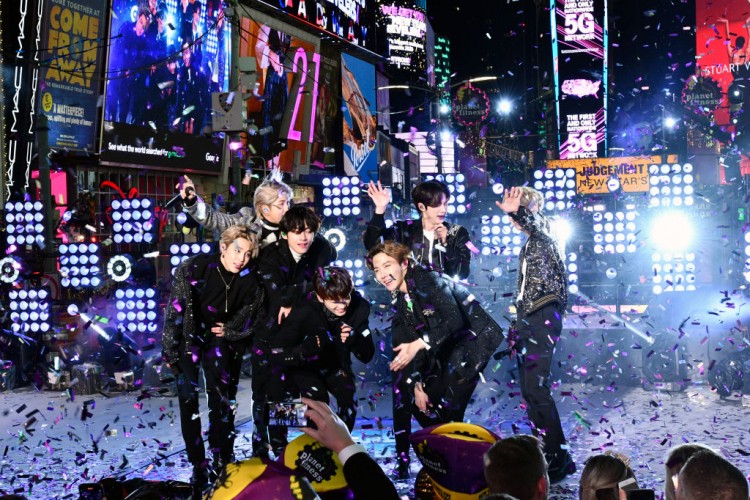 Are you enjoying 2021 so far? Well, the new year has just started. But before we proceed with another year full of hopes, let's look back to the songs which made 2020 bearable. We must say, a lot of content has been consumed in the past year, and the following list just proves who among the sea of K-Pop acts has been the most successful - on Spotify.
So without further ado, here are the most streamed songs of 2020.
#10 "Filter" by BTS
This list won't be complete without BTS member Jimin's solo song from their album "Map of the Soul: 7." According to Jimin, "Filter" talks about people's prejudice.
Released on February 21st, 2020, the song has gained over 115 million streams on Spotify. Because of the immense volume of streams and love "Filter" has received, it has been regarded as the most popular solo member song from the album.
#9 "WANNABE" by ITZY
ITZY has embraced their uniqueness and immense girl power that is just "Dalla Dalla."
The "ICY" singers released their second EP, "It's Me," last March 9th, 2020 with the lead track "WANNABE." This bop has over 120 million streams on Spotify and earned ITZY an incredible spot in the Most Streamed K-Pop Songs of 2020. It's also important to take note that ITZY is the only group of three that is 2-years young. 2020 has indeed been a year of great accomplishment for ITZY.
#8 "Life Goes On" by BTS
Another entry from the global superstars because why not?
"Life Goes On" was released just this November 20th, but it gained so much love that it made to #8 of this list. Being the title track of BTS fifth Korean album, "BE," this song gained over 135 million streams in just over a month. This just proves the intensity of BTS' global reach, don't you think?
#7 "Lovesick Girls" by BLACKPINK
Jennie, Jisoo, Rose, and Lisa were the "Lovesick Girls," and the whole world sang with them. The BLACKPINK girls might not need to look for new love because the 144 million streams that this release received just screams "BLINKS ALL AROUND THE WORLD LOVES BLACKPINK," so much!
#6 "Sour Candy" by Lady Gaga and BLACKPINK
Maybe one of the highly-loved collaboration of 2020! Lady Gaga teamed up with BLACKPINK to release this banger promotional single, "Sour Candy," for her sixth studio album, "Chromatica." No one can feel sour after hearing this song. You just have to accept that "Sour Candy" deserves to be streamed over 173 million times on Spotify. We just can get over this collab, and no one can change that.
#5 "ON" by BTS
Yes, another BTS song, and we are not complaining! Released on February 21st, "ON" was the lead track for BTS's "Map of the Soul 7" album. With 186 million streams on Spotify, no wonder that BTS continue to work hard amidst the struggle they've been through. After all, ARMYs are there to help them achieve their dreams, just like how BTS describes it in this song.
#4 "Black Swan" by BTS
Isn't this the fourth BTS song on the list? Yes, it is. Well, who can complain? This song is just a plain masterpiece that mirrors the undying passion an artist can have with its art, as well as the pain that it brings. This prerelease track has over 199 million streams on Spotify. Hands down to the "Black Swan."
#3 "Ice Cream" by BLACKPINK feat Selene Gomez
BLACKPINK is slaying, and the four girls didn't stop with the Lady Gaga collab. They are coming into our hearts strong with an addicting summer bop featuring no other than Selena Gomez herself. "Ice Cream" has gained over 233 million streams on Spotify and just shows the power that BLACKPINK and Selena possess.
#2 "How You Like That" by BLACKPINK
Second on this list is yet another banger from the quartet from YG Entertainment. As a prerelease for their first full album, "How You Like That," quench the thirst of BLINKS for a BLACKPINK comeback. With more than 334 million streams, surely this song is one of the best for 2020.
#1 "Dynamite" by BTS
Topping the "Most Streamed K-Pop Songs of 2020" list is BTS' record-breaking release of "Dynamite." It's such a feel-good song that brightened up our quarantine life. Surely, this release from BTS further cements the group as one of the legendary boy groups in the history of pop. With 570 million streams on Spotify, who can deny that BTS is THE BOY GROUP of the decade.
© 2023 Korea Portal, All rights reserved. Do not reproduce without permission.