New Year's Eve 2021 In Times Square, New York Turns Into A Virtual Event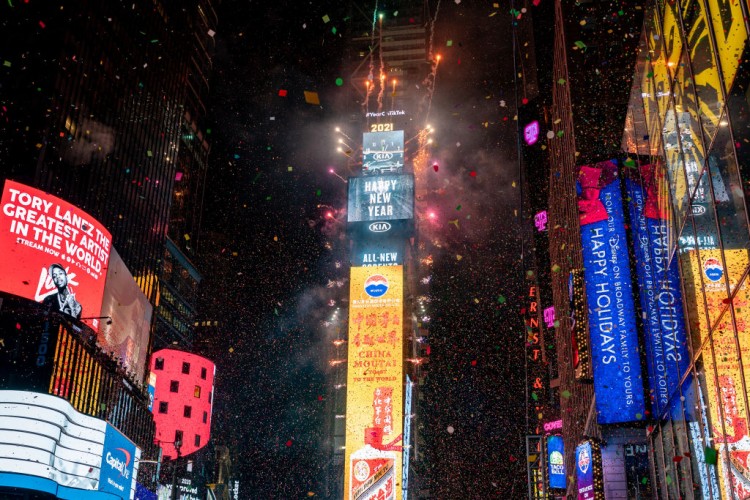 The world ushered into the New Year rather differently. NYE 2021 events in South Korea have been canceled due to the ongoing pandemic, the New Year's Eve celebrations at Sydney Opera House in Australia were illuminating yet without the crowd, and the light show in Beijing, China has been held off.
In Times Square, New York, where the New Year's Eve ball drop, the event watched by millions of people worldwide where the ball drops and rests at midnight to signal the beginning of the New Year, happens yearly, organizers decided to have it by invite, the area around Times Square was empty without the usual crowd except for the billboard ads that lit up this portion of New York, and attendees were told to instead watch virtually.
The NYE 2021 celebration in New York City, sponsored by KIA Motors, has been part of the lives of many Americans and even several individuals globally. Yet, they had no choice but to follow the protocols in lieu of COVID-19 and the virus mutation now detected in California, Colorado, and Florida.
The New Year's Eve ball drop in Times Square started in 1907, and for the first time in over a century, it is closed to the public except for a few dignitaries who were authorized to attend the event in-person.
Meanwhile, Dick Clark's New Year's Rockin' Eve 2021, the New Year's event also watched across the globe with performances from renowned artists, also was held online. This year's line-up included Jennifer Lopez, Cyndi Lauper, Miley Cyrus, Lewis Capaldi, Doja Cat, and so much more. It was hosted by Ryan Seacrest, Billy Porter, Ciara, and Lucy Hale.
Worldwide, New Year's Eve 2021 was filled with concerts and fireworks, yet quieter than before. Taiwan's Taipei 101 tower was lit up with fireworks as the clock chimed 12 midnight. In London, where people would sing tunes in the streets, it was silent for the New Year. The pyrotechnics show in Victoria Harbour in Hong Kong has been canceled.
© 2023 Korea Portal, All rights reserved. Do not reproduce without permission.