BLACKPINK, TWICE, IZ*ONE, Who Has The Highest Album Sales In 2020?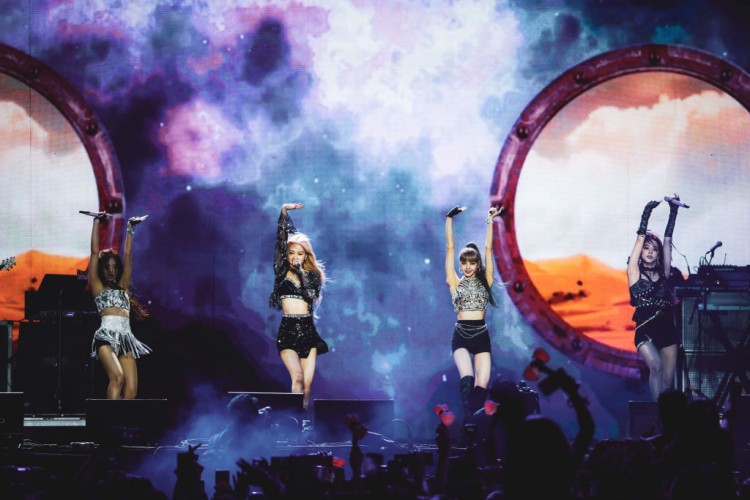 It has been known that compared to boy groups, K-Pop girl groups don't perform as well when it comes to physical album sales. However, today's top girl groups continue to break the boundary and push girl power to level with the boy groups' outstanding achievements.
As the year 2020 is ending soon, we have collated data to determine which K-Pop girl group has the highest total album sales this year.
Three of K-Pop girl group powerhouse: BLACKPINK, TWICE, and IZ*ONE has proven that girl groups can sell more than a million albums a year. Not only that but other girl groups such as DREAMCATCHER, LOONA, MAMAMOO, GFRIEND, Red Velvet, ITZY, and (G)-Idle has shown their influence and performed well in the album sales arena despite the current circumstances that the whole world is facing.
Based on the data collected from both Gaon (Korea) and Oricon (Japan) charts, we have listed the top-selling girl groups for 2020. Take note that these numbers include albums released in 2020 only.
#10 DREAMCATCHER
Total album sales in 2020: 170,445 copies
This year, DREAMCATCHER released their first full album, "Dystopia: The Tree of Language," which marks a new leaf after their previous "nightmare" series. Next in their "dystopia" series is the album, "Lose Myself," which features the title track "BOCA." Their two album release sold over 170,445 copies.
#9 LOONA
Total album sales in 2020: 177,959 copies
The girls of the month from Blockberry Creative released two albums this year with [#] and [12:00]. In October, the girls of LOONA stunned fans with an epic title track, "Why Not," for [12:00]. In total, the two albums earned the girls a total of 177,959 copies.
#8 IRENE & SEULGI (RED VELVET)
Total album sales in 2020: 233,847 copies
We weren't blessed with a Red Velvet comeback this year due to Wendy's accident last December 2019. Fortunately, our thirst for a Red Velvet comeback was quenched with a unit debuted from Irene and Seulgi! They have released the "Monster" album with two amazing songs: "Monster" and "Naughty." This album earned Irene and Seulgi a total of 233,847 album sales.
#7 GFRIEND
Total album sales in 2020: 234,387 copies
In 2020, their company, Source Music, was acquired by the Big Hit Labels. During this year as well, the sextet dropped three albums: "回: Labyrinth," "回: Song of the Sirens," and "回: Walpurgis Night." In total, GFRIEND sold 234,387 album copies this year. Check out their latest MV for "Mago."
#6 MAMAMOO
Total album sales in 2020: 248,484 copies
MAMAMOO has continued to bless our ears with amazing music this year; apart from the solo releases from each member, the group has dropped one album: "Travel." Even with only one album on their belt, MAMAMOO sold a total of 248,484 copies. Recently, MAMAMOO released the MV for "AYA."
#5 (G) I-DLE
Total album sales in 2020: 295,639 copies
The girls from CUBE Entertainment has continued to wow fans with their versatility. This year, they have released two Korean ("I Trust" and "Dumdi Dumdi" ) and one Japanese album ("Oh My God"). These amazing releases have garnered the group a total of 295,639 album copies sold.
#4 ITZY
Total album sales in 2020: 401,250 copies
There's no stopping these five girls from JYP Entertainment. ITZY continue to establish their own name and color with their two awesome album releases this year. With "IT'Z ME" and "Not Shy," ITZY sold over 401,250 copies of their album.
#3 IZ*ONE
Total album sales in 2020: 1,090,952 copies
The girls from IZ*ONE proves they are one of this generation's physical album sales-monsters. With three releases this year: "BLOOM * IZ," "Oneiric Diary," and "Twelve" (Japanese album), the twelve girls from selected b the national producers have sold 1,090,952 albums. Meanwhile, IZ*ONE just released the MV for their latest comeback, "Panorama."
#2 TWICE
Total album sales in 2020: 1,282,973 copies
TWICE is unstoppable. The nonet from JYP Entertainment released high-quality albums that showcased a new image for TWICE. Dubbed as the "Best-Selling K-Pop Girl Group of All-time," TWICE has sold more than 1,282,973 copies with releases such as "MORE & MORE," "#Twice3," (Japanese album) and "Eyes Wide Open." Meanwhile, they are teasing ONCEs with the upcoming official release for "CRY FOR ME."
#1 BLACKPINK
Total album sales in 2020: 1,695,630 copies
After four years, YG Entertainment's quartet has released their first-ever and the highly-anticipated full album, "The Album." As fans all over the world hyping this release, BLACKPINK sold out 1,695,630 copies and counting, cementing the status of BLACKPINK as a global phenomenon. Check out BLACKPINK's "Lovesick Girls."
© 2023 Korea Portal, All rights reserved. Do not reproduce without permission.