Here Are MAMA 2020 Top 10 Stages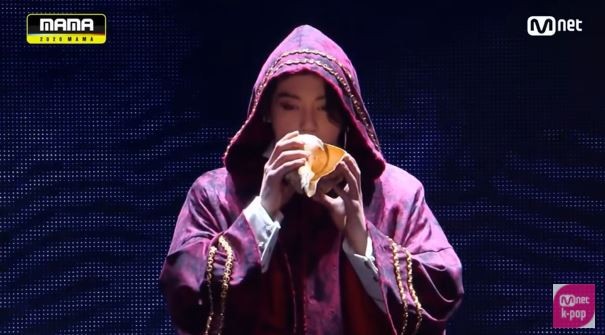 It has been four days since Mnet Asian Music Awards (MAMA) 2020 was broadcasted online across many countries such as South Korea, Japan, Indonesia, Thailand, Philippines, United States, Canada, and a lot more.
For the prestigious year-end awards show, Korea's top music acts gathered to give outstanding performances for their fans and the whole K-Pop community. Among those in attendance were some of K-Pop's biggest names such as BTS, TWICE, GOT7, MAMAMOO, NCT, (G) I-DLE, Oh My Girl, Stray Kids, The Boyz, ATEEZ, TXT, TREASURE, CRAVITY, Jessi, and many others. We have been blessed with charismatic performances and lit stages.
So, amidst the controversy and the criticisms slammed to the MAMA 2020 organizers for their mistreatment of the idols and their problematic lineup choices, among many others, let's take a look at the "TOP 10 Trending MAMA 2020 Performances."
#10 Jessi - 눈누난나 (NUNU NANA) with 2,444,281 views
Jessi's sizzling hot performance of "NUNU NANA" at MAMA 2020 raked in more than 2.4M YouTube views in just four days after the awards show. It's no surprise that fans are loving Jessi's powerful swag and charisma. After all, the singer won "Favourite Dance Performace Female" at MAMA 2020. Check out her jaw-dropping performance here.
#9 Hwa Sa - Maria with 2,987,525 views
As expected from a total performer like HwaSa, this solo stage is a bomb! HwaSa had a successful year with a banger release of "Maria" and a steady rise to popularity. MAMAMOO's youngest member is taking the music industry by storm. No doubt that she deserves to get the "Best Dance Performance Solo Award." Watch HwaSa's hot performance for "Maria."
#8 Stray Kids - Victory Song (MAMA Ver.) with 3,198,540 views
The eight boys from JYP Entertainment surely know how to put on an incredible show. They claimed victory with their intense raps and powerful choreography. Indeed, they are a powerhouse group to look out for in the highly anticipated "KINGDOM." Enjoy Stray Kids' "Victory Song" here.
#7 MAMAMOO - AYA + Dingga (Agrabah Ver.) with 3,234,294 views
MAMAMOO always performs to impress, and they didn't disappoint the fans in their latest appearance at MAMA 2020. Taking their two latest release in an Agrabah ride was just spectacular. What would you expect? They are MAMAMOO, and they command respect! Check out MAMAMOO's performance here.
#6 NCT - RESONANCE with 3,243,708 views
NCTizens from all around the world witnessed an incredible stage with all the 23 members. They got the numbers and the swag. Their performance with all the members easily got the outstanding views it deserves. Witness the "RESONANCE" here.
#5 BTS - Life Goes On with 4,743,171 views
It was meaningful and sentimental enough to touch the hearts of everyone who watched it. BTS in white suits is just pleasing to eyes and ears alike; no wonder this stage reached more than 4.7M views in just four days. Watch BTS's heartwarming performance here.
#4 BTS - Dynamite with 4,830,561 views
Dynamite is MAMA 2020's "Song of the Year," and the seven boys blessed us with a well-fitted retro performance. Check out BTS's "Dynamite" performance here.
#3 TWICE - MORE & MORE + I CAN'T STOP ME with 4,945,650 views
In the first half of TWICE's MAMA 2020 performance, the girls from JYP Entertainment continues to prove that they have grown into "MORE & MORE" jaw-dropping performers. The incredible stage featured stunning choreography and strong vocals. Fans can't stop watching this performance again and again.
#2 TWICE - CRY FOR ME with 5,807,965 views
This is the surprise performance that no one expected. TWICE made everyone's jaw dropped the moment they started performing this unreleased song. It was the perfect gift for ONCEs all over the world who are dying to see another side of TWICE. See for yourself the trending performance that made everyone cry, in a good way, of course!
#1 BTS - ON with 6,032,483 views
The number one stage of this list belongs to no other than BTS. Why wouldn't it? The boys just brought with them hundreds of dancers and ritual drums that took MAMA 2020 to a whole new level. BTS set the Seoul World Cup Stadium on fire with their epic performance of "ON." As of this writing, the eloquent stage from Jungkook, Jimin, V, RM, Jhope, and Jin was viewed more than 6M times!
© 2023 Korea Portal, All rights reserved. Do not reproduce without permission.
Tags:
MAMA 2020
,
MAMA 2020 top stages
,
BTS MAMA 2020
,
TWICE MAMA 2020
,
MAMAMOO MAMA 2020
,
STRAY KIDS MAMA 2020
,
NCT MAMA 2020
,
HWASA MAMA 2020
,
JESSI MAMA 2020
,
BTS ON
,
BTS LIFE GOES ON
,
BTS Dynamite
,
TWICE CRY FOR ME
,
TWICE MORE & MORE
,
TWICE I CANT STOP ME
,
NCT RESONANCE
,
MAMAMOO AYA
,
MAMAMOO DINGGA
,
STRAY KIDS VICTORY SONG
,
JESSI NUNU NANA
,
HWASA MARIA