BTS Members Missing In TCCAsia's 100 Most Handsome Faces Of 2020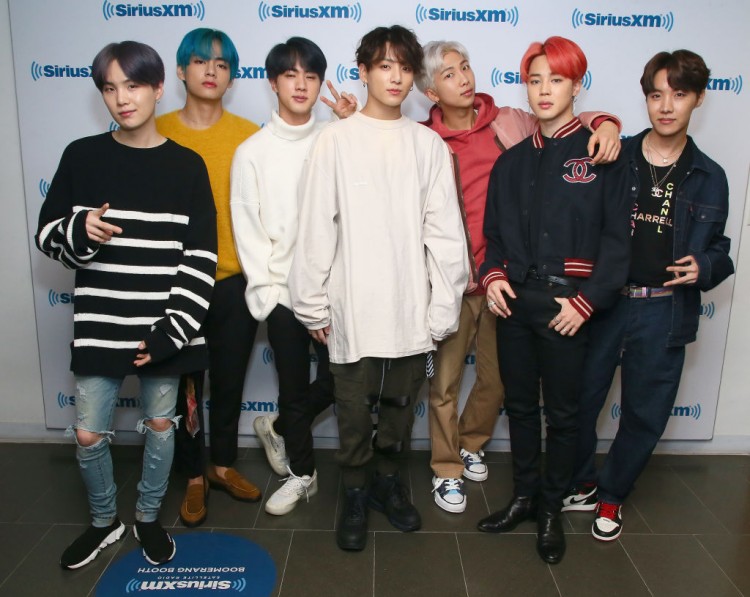 Before the official release of the "World's Most Handsome Faces of 2020," TC Candler Asia (TCCAsia) released the "Top 100 Most Handsome Faces of the Asia-Pacific." For this year, the long list includes many of Asia's top male celebrities. From top Korean and Chinese Actors, K-Pop and J-Pop Idols, and other top celebrities from Thailand, Malaysia, Vietnam, and other countries in the Asia-Pacific region.
Many K-pop idols from big groups such as NCT, EXO, SEVENTEEN, Super Junior, UP10TION, Wanna One, BIG BANG, TXT, SHINee, TREASURE, GOT7, and ASTRO were included in the list. EXO's Chanyeol and Baekhyun placed 8th and 6th, respectively, while ASTRO's Cha Eunwoo got 4th place. Meanwhile, EXO's youngest member Sehun secured second place, the highest spot for all the K-Pop Idols on the list.
However, what baffled netizens the most is that there is not one BTS member included in the comprehensive list. Not even Jungkook who was named the "#1 Most Handsome Face of 2019."
Check out for yourself the following 100 male celebrities who represent the Asia-Pacific region's most handsome faces of 2020. Is your bias included in the list?
#100 Masaki Suda
#99 Zuo Linjie (S.K.Y)
#98 William Chan
#97 Perth Tanapon Sukumpantanasan (TEMPT and Boyfriends)
#96 Bai Jingting
#95 Takeuchi Ryoma
#94 Wallace Chung
#93 Mew Suppasit Jongcheveevat
#92 Steven Zhang
#91 Yamazaki Kento
#90 Gong Yoo
#89 Roy Wang (TFBoys)
#88 Gulf Kanawut Traipipattanapong
#87 Non Chanon Santinatornkul
#86 Ryusei Yokohama
#85 Push Puttichai Kasetsin
#84 Justin (NEXT)
#83 Tao (formerly EXO)
#82 Liu Haoran
#81 Yuta (NCT)
#80 Krist Perawat Sangpotirat
#79 Bie Thassapak Hsu
#78 Song Jiyang
#77 Song Joong Ki
#76 Mackenyu Arata
#75 Ren Hao (R1SE)
#74 Jung Hae In
#73 Hu Yitian
#72 Jeonghan (SEVENTEEN)
#71 Chen Linong (formerly Nine Percent)
#70 Chengcheng (NEXT)
#69 Joshua (SEVENTEEN)
#68 Heechul (Super Junior)
#67 He Luoluo (R1SE)
#66 Ji Chang Wook
#65 Zuo Ye (Awaken-F)
#64 Wooseok (UP10TION and X1)
#63 Donghae (Super Junior)
#62 Ren Jialun
#61 Boun Noppanut Guntachai
#60 Lucas (NCT)
#59 Kris Wu (formerly EXO)
#58 Hendery (NCT)
#57 Katayose Ryota (GENERATIONS from EXILE TRIBE)
#56 Guanlin (formerly Wanna One)
#55 DK (SEVENTEEN)
#54 Deng Lun
#53 Mingyu (SEVENTEEN)
#52 Lin Gengxin
#51 Zhang Yunlei
#50 Chen (EXO)
#49 Hua Chenyu
#48 Huening Kai (TXT)
#47 S. Coups (SEVENTEEN)
#46 Saint Suppapong Udomkaewkanjana
#45 Jaehyun (NCT)
#44 Ryusei Ryo
#43 Li Xian
#42 G-Dragon (BIG BANG)
#41 Renjun (NCT)
#40 Park Seo Joon
#39 Luhan (formerly EXO)
#38 Lee Soo Hyuk
#37 Jonghyun (SHINee)
#36 Yang Yang
#35 Hyun Bin
#34 Kim Soo Hyun
#33 Chiba Yudai
#32 Gao Weiguang
#31 Lee Jong Suk
#30 Asahi (TREASURE)
#29 Xiumin (EXO)
#28 Jaemin (NCT)
#27 Lee Dong Wook
#26 Suho (EXO)
#25 Yuzuru Hanyu
#24 Taeyong (NCT)
#23 Haruto (TREASURE)
#22 Ding Yuxi
#21 Kai (EXO)
#20 Dimash Kudaibergen
#19 Shiroiwa Ruki (JO1)
#18 D.O. (EXO)
#17 Karry Wang (TFBoys)
#16 Yamashita Tomohisa
#15 Jackson (GOT7)
#14 Beomgyu (TXT)
#13 Lay (EXO)
#12 Lee Joon Gi
#11 Jackson Yee (TFBoys)
#10 Lee Min Ho
#9 Michieda Shunsuke (Naniwa Danshi)
#8 Chanyeol (EXO)
#7 Song Weilong
#6 Baekhyun (EXO)
#5 Wang Yibo (formerly UNIQ)
#4 Cha Eunwoo (ASTRO)
#3 KUN (formerly Nine Percent)
#2 Sehun (EXO)
#1 Xiao Zhan (X Nine)
Congratulations to everyone included on the list!
© 2023 Korea Portal, All rights reserved. Do not reproduce without permission.
Tags:
BTS Most handsome Faces
,
BTS Missing
,
BTS Members
,
BTS Jungkook
,
bts news
,
BTS Jimin
,
BTS RM
,
BTS Jhope
,
bts v
,
BTS SUGA
,
BTS Jin
,
NCT
,
EXO
,
Seventeen
,
Super Junior
,
UP10TION
,
Wanna One
,
Big Bang
,
TXT
,
SHINee
,
Treasure
,
GOT7
,
ASTRO
,
Asia's Most Handsome Faces of 2020
,
TC Candler
,
TC Candler Asia
,
EXO Sehun