Suneung Pushes Through Amidst COVID Case Pile-Up, 19 Proctors Replaced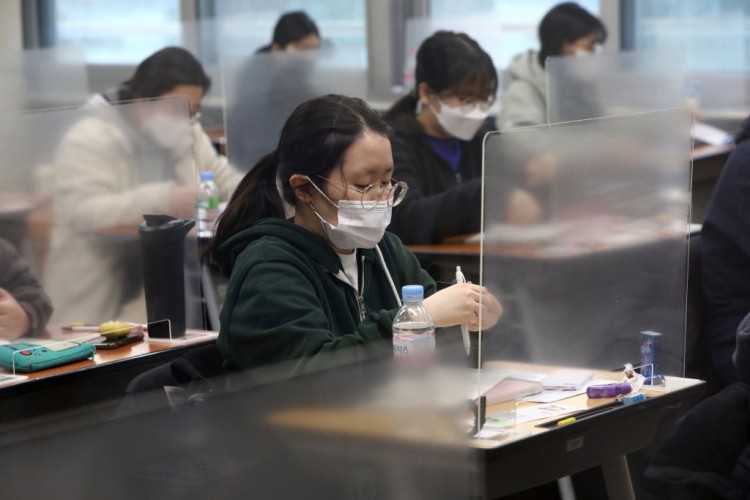 South Korea sees 540 new coronavirus cases for the second consecutive day, increasing the country's total caseload to 35,703.
Based on the report of the Korea Disease Control and Prevention Agency (KDCA), 516 of the new cases were from local transmissions. Additionally, three deaths were reported, raising the total fatalities to 529.
With no signs of a letup, authorities decided to add more restrictions to Level 2 starting this month. Starting on December 1, the operation of sauna and indoor sports facilities were banned. While hotels are restricted from holding year-end parties.
Despite the pile-up of new cases, almost half a million college hopefuls took the national College Scholastic Ability Test (CSAT) or "Suneung" on December 3.
Tight pandemic protocols were observed. The examinees' body temperature was checked before they enter the exam rooms. Inside, plastic dividers were installed at each desk and the examinees weren't allowed to switch seats during lunchtime.
This year's CSAT saw a 13.17% or 64,648 no-shows. Meanwhile, 45 COVID-19 patients took the exam at several designated hospitals. Moreover, about 160 exam-takes who exhibited coronavirus-like symptoms onsite were assigned to special exam rooms.
On the other hand, 19 proctors from Daejeon were urgently replaced after one proctor tested positive for the virus on Wednesday.
Today's national college exams add to the risk to the projected "bigger wave" of the pandemic in the winter season. Because of this, the Health Ministry advises the test-takers to avoid celebrations or gatherings after the exams.
"We want to recognize (test-takers) for their academic efforts, but we advise them to refrain from holding gatherings or engaging in long conversations with friends in enclosed restaurants and cafes after the Suneung is over," said Son Young-rae, Health Ministry spokesperson, in a press briefing Thursday.
The official test scores will be made available on December 23rd.
© 2021 Korea Portal, All rights reserved. Do not reproduce without permission.